Drury joined Borough during the Barrett and Liddle regime late last season and was a key force in Boro's survival occupying both defensive and attacking roles. Adam's pinnacle moment in a red shirt last year was his goal in the League Cup against NCEL Premier Champions Tadcaster Albion. A game Grimsby Borough forced into extra time.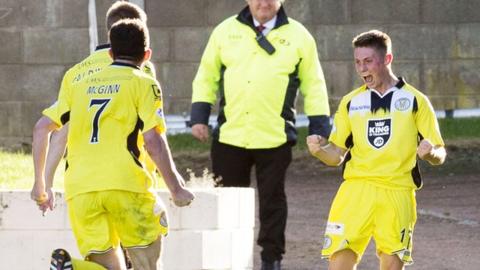 Drury celebrating during his time at St Mirren
Adam played 8 games at the back end of last term for Grimsby Borough scoring 3 goals in his time and gaining 2 assists. Adam showed his versatile nature by finishing the campaign off moving from right wing to right back, his more natural position.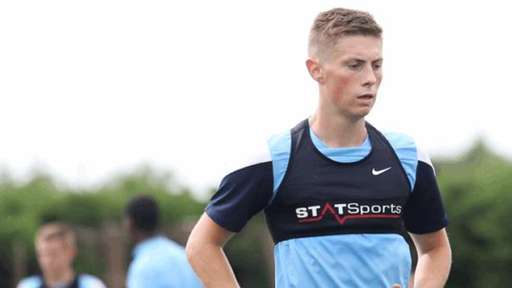 Boro will be delighted to have secured the signature of Adam Drury given his prestigious background and his impressive previous club record. Drury was a Youth player at Manchester City from a 12 year old boy, he remained on City's books until 20 years old. During that time he was a regular member of the U21s team and enjoyed successful loan spells at Burton Albion and St Mirren. Adam was released by big money rollers City in 2015 and since signed for Bristol Rovers but his time there was short lived.  He also played a handful of games for Gainsborough Trinity during the Christmas period last year.
Barrett "It really does go without saying that we are obviously delighted to have Adam on board for the upcoming season. He came in at the back end of last season, not only to keep himself ticking over but to help the club during a player and managerial transition whilst being engulfed in a relegation battle. He was fundamental scoring and creating goals out of position. There is no doubting the lads ability and I can't knock his attitude either. He has been professional in every way shape and form. He has come in this pre-season, shown good levels of fitness and desire and we look forward to getting games into him within the next few weeks. The biggest positive for me personally is that Adam appears to be enjoying his football again, playing with a smile and growing in confidence around team mates he knows well. The club can be excited to see the best from him and I don't think anyone doubts he will have a successful campaign. Although young, his obvious football league experience and professionalism will benefit the club massively and I just think it shows what the club is about that Adam has chosen to start the season with us! Real honest kid and good character to have at the club"
After having some time away from the game Drury signed for local side Grimsby Borough to gain fitness and to help his good friend and newly appointed manager at the time Dan Barrett during a tough period for the club.  Adam enjoyed his time with the Wilderness Boys that much that he is back for more this season.
Liddle "Adam, as we all know has had an outstanding youth background within a top premiership club and when he signed at the back end of last season, it came as a big shock but he helped the club out at a difficult time and he must take credit for that. We used him in a number of positions, a majority of them un-natural to him but he showed outstanding character and commitment and gained a lot of respect from everyone at the club. There were a number of clubs interested in Adams services already this season and myself and Baz were here to help him in his hunt for a professional contract. He has been training with us since pre-season began and I must say, I have trained and managed a lot of ex-pros in the past and you always have the battle of a big ego billy bigtime attitude but Adam is the complete opposite. Ads is quite a shy honest kid, like he is entering a changing room for the first time but credit to him, it's a breath of fresh air! It goes without saying how delighted we are that he has committed to Grimsby Borough for the season and at the same time concentrate on a career outside of football."
Adam will be sponsored this season by On loan recruitment. David Riggall at On-loan recruitment has been Grimsby Borough Football Club's longest serving sponsor, supporting the club since their first season in the NCEL over 8 years ago! Both the club and Adam are appreciative of the continuous support and personal backing for the upcoming season.

Updated 15:38 - 8 Jul 2016 by Dan Sylvester