History - History of Junior Rugby at Selby
Charles Day's selection for Yorkshire Colts to play Warwickshire in March 1964 would probably be the first many people in the Club had heard of Colts rugby. Unfortunately a broken wrist the week before prevented him from playing and with the county only playing one match a season in those days he never got another chance. Ian Wilson and Gordon (Buster) Grace had Colts trials in the following season. Buster was selected and played in the 20 points to nil victory over Durham at Harrogate. With this success Colts rugby at Selby had to be looked upon as a serious proposition. In the hope of encouraging more younger players to the Club, matches on a regular basis were arranged with Drax G.S. still the only rugby playing school in the area. The Club also helped establish the game at Barlby High School providing posts and holding coaching sessions there.
The Christmas holidays of 1966 saw the first Colts rugby played at Selby. The first match against Harrogate was lost 12-5. Two other games were both lost but the response had been encouraging and a base had been laid. Colts rugby really became established in the 1967-68 season. 15 games were played winning six and scoring 160 points against 179. The season's highlight being a splendid 19 points to nil victory at Sheffield.
More games were played in each of the next two seasons with 27th December 1969 a real red letter day fielding two colts sides one winning at Bramley 21-6 and a second team beating Scarborough at home 77-0. Most of the players at that time were from Drax G. S. and Barlby High School and many have since become valued members of the Club. Names that spring to mind include Mike Magee. who as chief points scorer topped well over 100 points in two consecutive seasons, Steve Priestley. Terry Pulleyn, Dave Hatfield. Syd Lamb, Tim Johnson, Arthur Adamson and Ian (Taffy) Wainwright whose help in getting the side together week by week was invaluable.
In 1970 an unsuspecting Walter Vollans brought his 14 year old son Brian down to get involved with the game and soon found himself helping to run the side. Walter, a quiet and devoted soccer convert, gave valued service over the next few years. Brian's ample frame proved a big asset to the Colts. He captained the side in season 1971-72 when 12 of the 26 matches were won and went on to play for Yorkshire Colts against Lancashire in 1973.
The early seventies proved to be a difficult period. Changes in the local education system meant that Drax G.S. became a small independent school, with very few players likely for a number of years, and young players were not yet emerging from the new Selby High School. Success was rare and of the 50 games played in the seasons 1972-73, 1973-74, only 7 were won. To become regular chopping blocks was no fun and the fact that we survived and played a full fixture list brought out the best in players and captains Gary Adamson and Peter Mooney.
National and County Colts rugby was now getting organised and in 1973-74 season the late Les Moore played at stand off for the Yorkshire Colts side that won all its matches to win the Northern Championship.
In 1974 Dave Budding arrived in Selby and became Colts manager in the 1974-75 season. A man of East Yorkshire Dave took on a determined 'no nonsense' approach and was rewarded with loyalty from his players and success hitherto unknown in the Colts. Peter Magurn's side scored a record 16 wins in the 1975-76 season and 24 matches were won in the following season. Two of only six defeats were against top Welsh youth sides Senghenydd and Bargoed on their Welsh tour.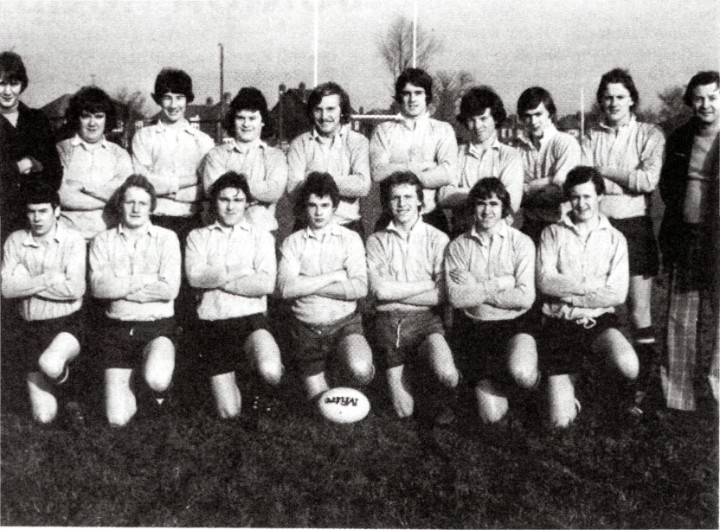 SELBY COLTS 1976/77
Back Row: T. Mustill, I. McLoughlin, R. Adamson, T. Wooding, I Copperwheat, A. Wadsworth, I. Rockliff, DJ. Longhorn, P. Magurn, D. Budding.
Front Row: N. Pullan, A. Warner, B. Wilcockson, S. Lowery, A. Simpson, C. Coupland, J. Moxon.
Jerry Long-horn's side in the 1977-78 season was only a little less successful. This era produced an outstanding crop of young players mostly from the new Selby High School, the ma­jority of whom will lay claim to being valuable members of the Club's senior sides today. Raymond Adamson, Steve Lowery, Martin Richardson, Ian Rockliff, Tommy Wooding, Tony Wadsworth, Brian Wilcockson to mention a few. Two others, John Phillips and Andrew Warner had outstanding futures in the game cut short through serious injury.
Further County recognition came Selby's way in the 1977-78 season when Tony Wadsworth and Steve Townend played in the Yorkshire Colts side that lost to Durham at Durham City. Steve captained the County in all their matches that season.
1979 saw the Colts administration creaking again and it was indeed fortunate that we had John Moxon as captain whose perseverance and hard work did much to keep the Colts afloat. Geoff Foster came to the rescue with a combination of qualities which have proved just right for the successful running of a Colts side, and I am sure that every Colt to come under Geoff s wing in the past four years is a better man for the experience. 1979-80 with Clive Rich as Captain was a year of consolidation but with Clive as Captain again in the following campaign a very good season was enjoyed winning 16 of the 27 games played. A second Welsh tour was undertaken beating Bonnymaen Youth and losing to Vadne Youth. Players of the season who have since made their mark in senior sides include Paul Forth, Mark Brodigan. Andy Pendlebury, Chris Redfearn.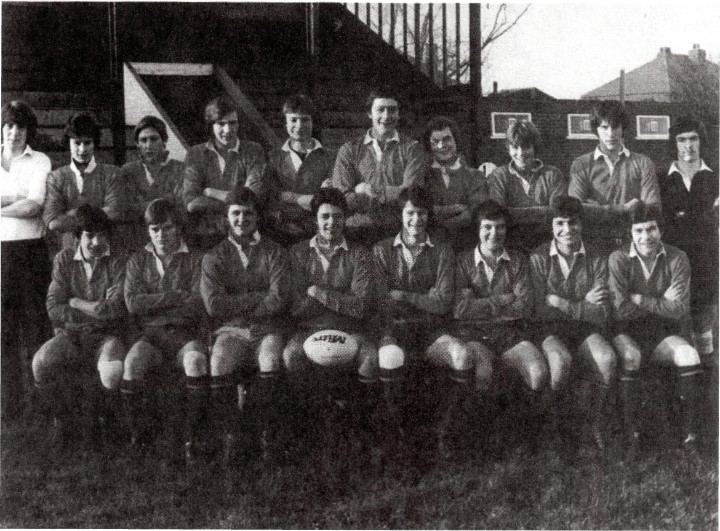 SELBY COLTS 1979/80
Back Row: N. Found, M. Eady, I. Walton, M. Brodigan, W. James. I. Forth, C. Tute,
P. Hesp, I. Dale, S. Palmer.
Front Row: A. Ewer, R. Foster, R. Wetherell, C. Rich. G. Baker C. Redfearn, G. England, I. McTear.
The volatile nature of Colts Rugby was never better illustrated than in 1981-82 with a number of players over-age at the same time, resulting in a very disappointing season. But last season again proved to be highly successful and I am sure that many of the players will be just as big assets to the Club and the game as those who have gone before.
So much for the record; what of the future? With the first players emerging from the Junior section, excellent support and co-operation from the schools, the playing strength seems assured. Even now Colts rugby, so well established at Selby, is still very unpredictable. The fatherly figure who is prepared to live1 with the team, encourage and preserve the values on which the game is built and see fair and honourable play on the field is still the most important factor in having a successful and happy Colts side. Let us hope that someone will always be ready to take up the challenge come September!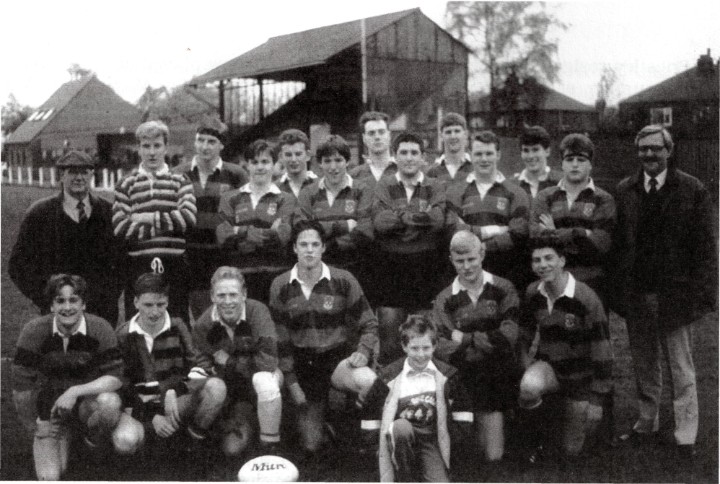 Standing on the left: Brian Walker, on the right Gordon Potts