It was a successful occasion with the club getting a great deal of exposure through the Scheme's football tournament, run in conjunction with McDonald's, and the club's PR activity.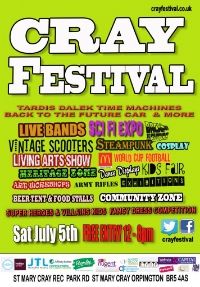 McDonalds and Cray Wanderers partnered to bring four local Under 8's teams along for a Youth World Cup Tournament which was won by Junior Reds from Charlton Athletic. All players received a commemorative medal and the winners received a World Cup replica trophy.
Over the day the club was able to engage with the local families and youth to promote the clubs activities. There was information about the six week summer holiday camp as well as running every day sports and activities that appeal to all ages, genders and abilities. Such activities as:
• arts and craft
• dance and drama
• cooking club
• football
• tennis
• cricket
• basketball
• dodge ball.
The scheme has a free taster day for all to try out on Friday 25th July and the camps start on Monday 28th July for the whole week.
Operations Director of the Cray Wanderers Community Scheme is ex Cray Wanderers legend Tyrone Sterling and he was ably assisted as always by his colleagues in the Community Scheme, Reggie Oliver and Kay Skelton.
A big thanks also to Bill Perera and Marie McVey from McDonalds for arranging the sporting event and for giving us such tremendous support.
As well as publicising this vital resource to the area there were officials from Cray Wanderers PR and Media Team, Richard Bowdery and Mark Hunt along with club historian Jerry Dowlen.
They were there to spread the word about the football club and its future ambitions, to encourage locals to come along and support the club with an enticement of reduced season ticket prices and more importantly Cray Wanderers long standing efforts to locate to a new stadium in the Cray's. There were also Cray Wanderers history books on sale.
Many of the locals who visited the stand wished the club well with our efforts and voluntarily gave contact details in order to be updated with our ambitions to bring the Wands home
Overall this was a very satisfying day for the club and its valued position as part of the Cray community and its long term prosperity.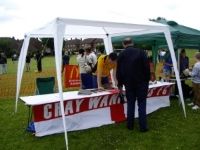 Mark Hunt
Cray Wanderers FC – Media and PR Officer