A few changes to the format (and a Premier League Title to celebrate) helped make the 2019 Juniors' Day better than ever. Here is a summary of the Day -
Cricket Comps
As usual, the Day started off with Kwik Cricket Comps for Girls and Boys in the Under 12s and younger. This year Adam Frais masterminded a team Cricket Olympics for the older Girls and Boys. The challenges included distance hitting, speed gun tests, slip trio comps, hitting the stump and high vertical catching. Competition was fierce with a play off required to decide the winning team. We also staged a game for our Minis and All Stars and their parents. Over 100 Juniors took part overall.
Shot of Ground with Comps in progress -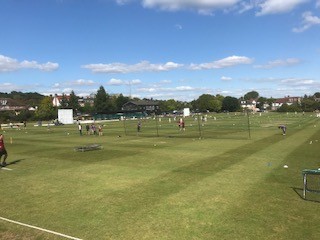 BBQ
After the cricket the BBQ was in full swing with our team of Mary and Richard Cracknell, Susie Nicoll, Susie Francis and first teamers Joel Hughes and Liam O'Driscoll somehow managing to cater for an estimated 200 plus - an amazing achievement – thank you all so much. Parents donated an impressive range of salad, puddings and cakes – all of which disappeared in no time.
Awards
Organisers deep in thought -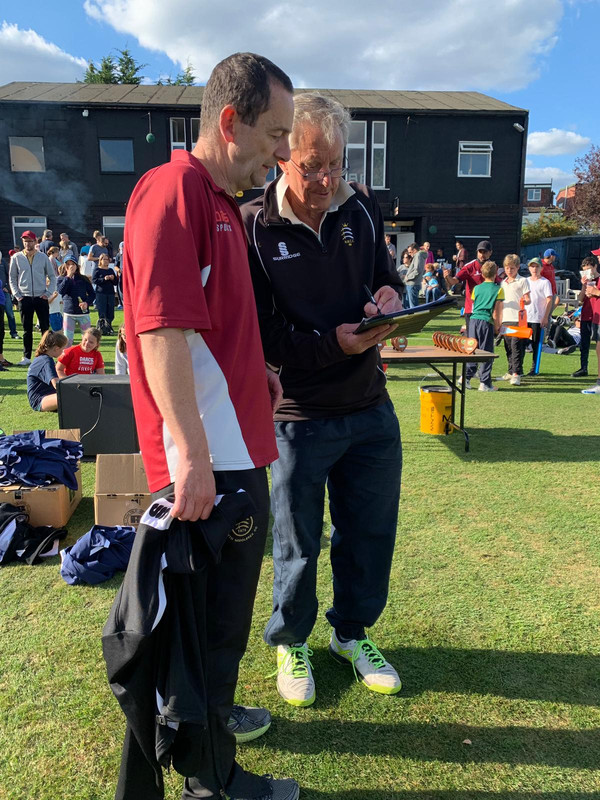 The Awards began with tributes by Chairman, Stephen Edwards and Tom Way to our First XI who won the Premier League title on the previous day for the first time. Joe Cracknell, Luke Hollman, skipper Joel Hughes and Liam O'Driscoll from the winning side helped with the presentation of the Awards. It was also great to have Paul Frost with us. He and Sanjay Patel have spent a great deal of time over the last few years working with our senior and junior players to achieve their potential.
Here is list of recipients of the Awards –

Jack Petchey Achievement Awards - for young people who have gone above and beyond to achieve and who have given something back to the Club. Steve Edwards thanked Martin Armstrong-Fox for all the work he does in relation to the Awards, each of which comes with £250 to be spent on things which benefit the Club.
From 2018/July 2019 –
• Maya Darmon (Sept 2018)
• Nikhil Perincherri
• Alex Sydenham
• Imani Nze Abaga
• Harry Hayward
• Freddie Bonfield
From September 2019
• Arun Solanki
• Elsie Bonfield
• Charles Martland
Here is Joel in full flow -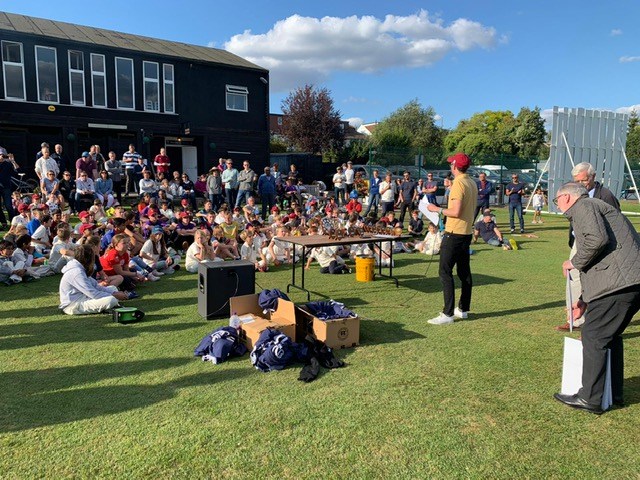 Boys Players of the Year –
o U7/8/9 – Rayan Chandra
o U10 Marco Hyam/Akash Dhana
o U11 Jonah Charlesworth
o U13 B – Olly Buxo Copp
o U13 – Mingus Clark
o U15B – Tom Plimley
o U15A – Tom Francis
Girls Players of the Year -
o U10 – Mary Dickson
o U12 – Jess Plimley
o U14/15 – Jacqui Sanitt
o Georgia Morris Batting Trophy - Millie Roxburgh – presented by Richard Morris who gave a moving speech about the joy Georgia had derived from playing at North Midd during her tragically short life.
• Brian Oz Cohen was thanked for all the hard work he puts in to make our ground the envy of many other Clubs.
o Clubwide Awards –
Sheppard-Tibber Trophy - for the adult(s) contributing most to our Juniors in the Season – David Boyd/Gerald Clark for their work with the U12/13s this Summer
Georgie Willett Trophy - for the Junior making the greatest all round contribution in the Season – Gabriel Basden - on the left in the cover photo
Junior Player of the Year - Tom Francis on the right in the cover photo
Waterslide
The Day ended as usual with a session on the waterslide monitored with great authority by Rachel Evans.