Massive relief to see the 1s secure 12 points at Stanmore. Takes them back to joint top of the Prem with Ealing – 4 matches to go! Remaining matches -
Us - Richmond (H), She Bu (A), Teddington (H) and Harrow St Mary's (A)
Ealing - She Bu (H), Teddington (A), Harrow St Mary's (H), Finchley (A)
With 1s, 4s and 5s finishing relatively early, large crowds gathered at the Midd to cheer on the 3s (who so nearly made it – well batted Tom Barrow) and see Torch and Shirls steer the 2s home v Highgate.
Conrad Williams was over at Stanmore and then returned to see the 2s win. All the pics in the Article are courtesy of him - huge thanks for those and all the others he has so kindly forwarded to us this Season.
Here is a pic of the crowd at the 2s game as Will Nic passed 100 -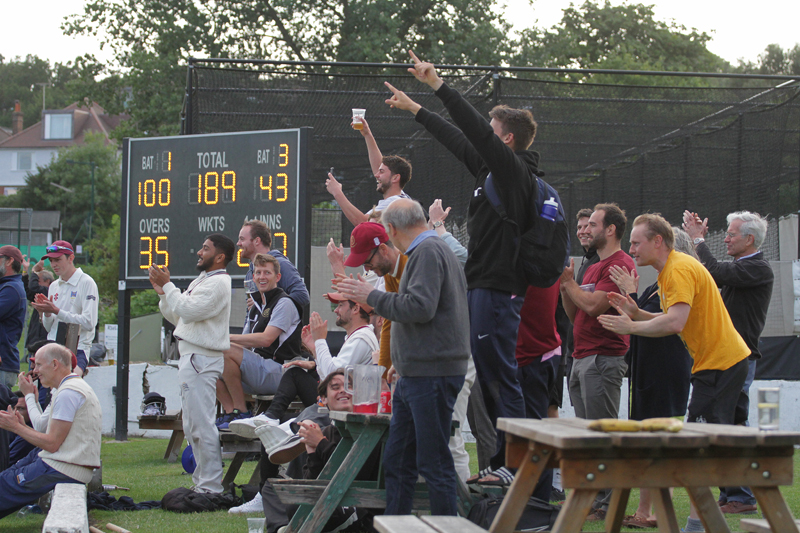 and afterwards tracking the Ealing finish against Richmond which unfortunately didn't go our way -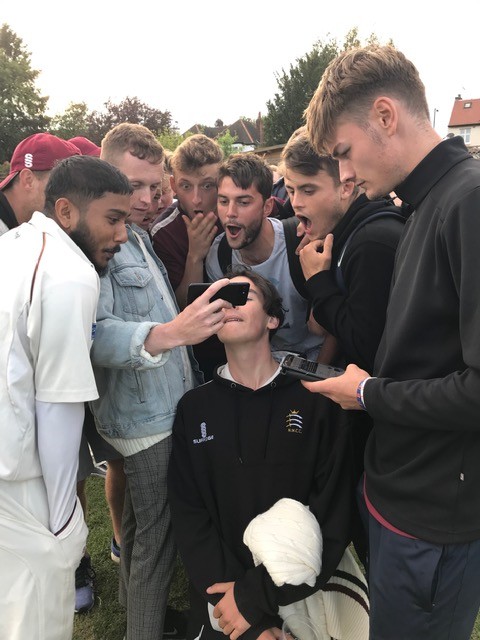 Great to see Timmy O'Neill and Anthony Holloway back and playing for the Midd this weekend. Tino is a fairly regular visitor but Timmy hasn't been over for more than 15 years. He was our overseas for a period to 2004 and took a stack of wickets for us then. Timmy lives a pitch length away from the Flowers in Newcastle NSW and has been influential in our recruitment of the likes of Evan, Sammy Weber and more recently Chad Mayo. Timmy will be at Lords on Wednesday. If you want to catch up with him try the Coronation Garden at lunchtime.
Here are the full Reports for 10 August -
North Midd 1st XI vs Stanmore (Away)
North Midd 200 all out from 57.1 overs
Stanmore 101 all out from 35.2 overs
North Midd won by 99 runs
Arriving at the Stanmore Common ground, the covers had been pulled off to reveal that some water had seeped under after overnight rain, leaving roughly half of the pitch slightly damp and the rest dry. The surface was firm throughout but it was clear that batting could be challenging until the moisture dried out. Stanmore had no hesitation in inserting the visitors upon winning the toss, but, fortunately for North Middlesex, there was a gusty wind and periods of warm sunshine all day, so the pitch dried out quicker than might otherwise have been the case. North Middlesex replaced Teesdale and Matt Cracknell with James Parslow and Joel Hughes. In the first over, Mullahzada, bowling brisk out-swingers, persuaded Luke Hollman, who had cover-driven his second ball for four, to feel for a good length ball on off-stump, only to be caught behind (5-1, 4). Joe Cracknell adopted his usual aggressive style together with due circumspection because of the conditions; he eventually pulled a sumptuous six off Elech, and hit the first three balls of a Mullahzada over for imperious fours before pushing forward to the fourth and edging to second slip who took a neat catch (54-2, 36 from 39 balls). Evan Flowers was laying the foundations for a long innings without neglecting opportunities to score when a leg-cutter from Elech induced a fine edge past the standing up wicket-keeper, only to be brilliantly caught diving, one-handed and low to the left by Rath (captain of Hong Kong) (70-3, 20). Parslow had played himself in and was just branching out when he also edged Elech to the excellent 'keeper Hanson (83-4, 15). Tom Nicoll hit a boundary before being trapped lbw by Elech (89-5, 5). Without playing any loose shots, the visitors had subsided in demanding conditions against sustained quality fast-medium bowling, and their middle order was to be tested to the full as they attempted to post a reasonable target. Elech, formally a key cog in the Ealing wheel for years, bowled with control and skill, moving the ball off the seam (13-5-42-3), and together with the effervescent Mullahzada (12-3-53-2) bowled the first 26 overs unchanged. Will Vanderspar hit two boundaries from his first 5 balls to announce his arrival, but then set about building an innings and he found an equally determined partner in Rob Fahrenhem. The hosts switched to spin, but both batsmen carefully saw their side to lunch (112-5 from 30 overs), with all to play for. On resumption the pitch appeared to have dried out substantially, and batting looked significantly easier as both batsmen scored more fluently whilst respecting the bowling. It was a surprise therefore when Fahrenheim edged a back-foot drive to slip off Skipper Karia's left-arm spin (145-6, 19): they had put on an invaluable 56 from 105 balls. The same bowler trapped Vanderspar lbw on the back foot with one that scudded through low, to end an excellent, patient innings which master-minded the recovery (158-7, 47). After a brief, positive interlude, the same bowler persuaded Liam O'Driscoll to hole out at long-on (175-8, 7), and there was still work for the visitors to do. Max Harris restrained his natural instincts and played the bowling with respect, but it was Alex MacQueen who played the second key innings, mixing resolute defence with a couple of sixes and plenty of singles; eventually, with 200 in sight he holed out at long-off, but the job had been well and truly completed (198-9, 34); four balls later Hughes was caught behind (200 all out, 1) with Harris 7 not out. Spinners Karia (14-2-52-3) and veteran Marc Reingold (15-1-37-1) had always posed a threat and commanded respect, but one wondered whether bringing the opening attack back earlier might have been more effective. The total looked 20 above par, and the middle and lower order had responded magnificently to the crisis, more than doubling the score for the last 5 wickets.
Having hit two boundaries and looking in good form, the dangerous Steve Reingold drove a ball back to O'Driscoll inches above the ground; the bowler threw himself to his left to hang on to the second magnificent one–handed catch of the game (18-1, 8). Hughes changed ends and had the talented Rath well held at cover by Flowers from a full drive (29-2, 5). Here is Hughes in action with Evan Flowers in the background.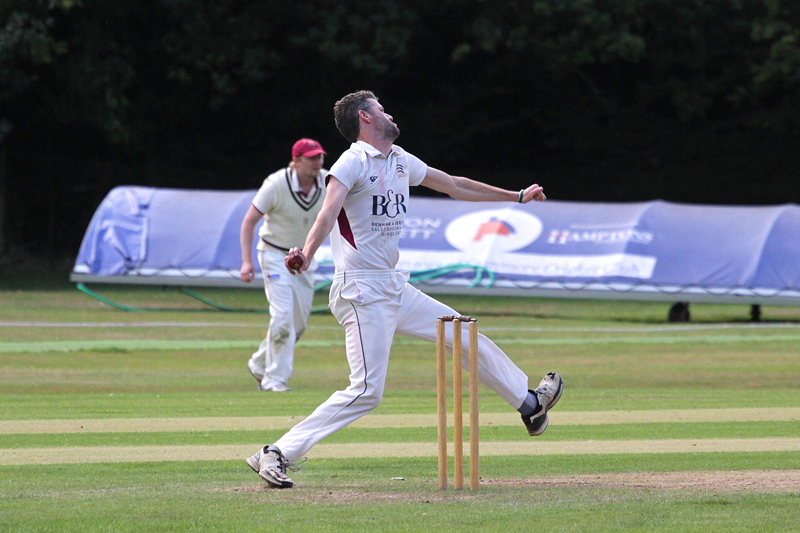 Harris joined in the fun, having hard-hitting opener Azam neatly caught by Paslow at 2nd slip (33-3, 16), left-handed Mehra was caught behind off Hughes (33-4, 0), Harris pinned the experienced Elech lbw on the back foot after a flurry of shots (41-5, 8), and Hughes brought one back to win an lbw decision against Brock (42-6, 0): five consecutive overs with a wicket! Skipper Karia and Grant Reingold survived until tea (45-6 from 17 overs), but the innings was in tatters.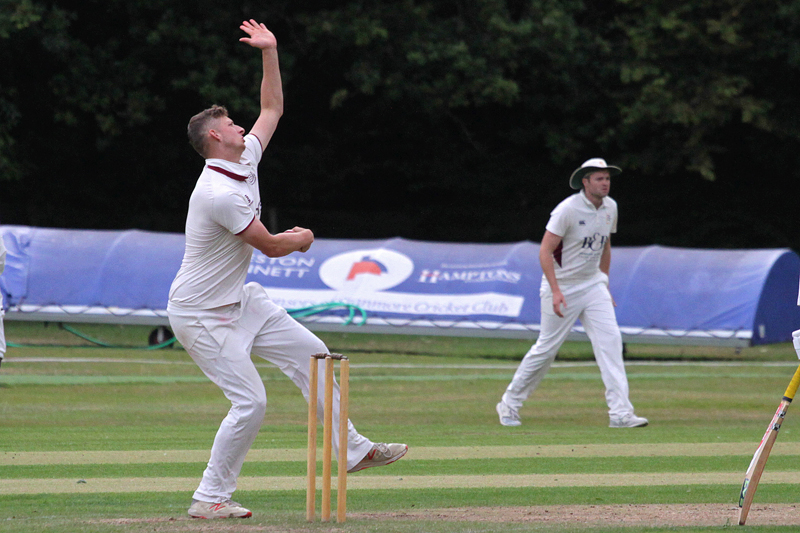 Both players played sensibly after tea, defending soundly but not missing opportunities to score, and they had put on 27 when MacQueen induced the latter to give a simple bat-pad catch to Vanderspar (dressed up as 'Michelin Man') at short-leg (69-7, 21). Here he is caught on camera with Marc Reingold on strike and Joe Crackers behind the stumps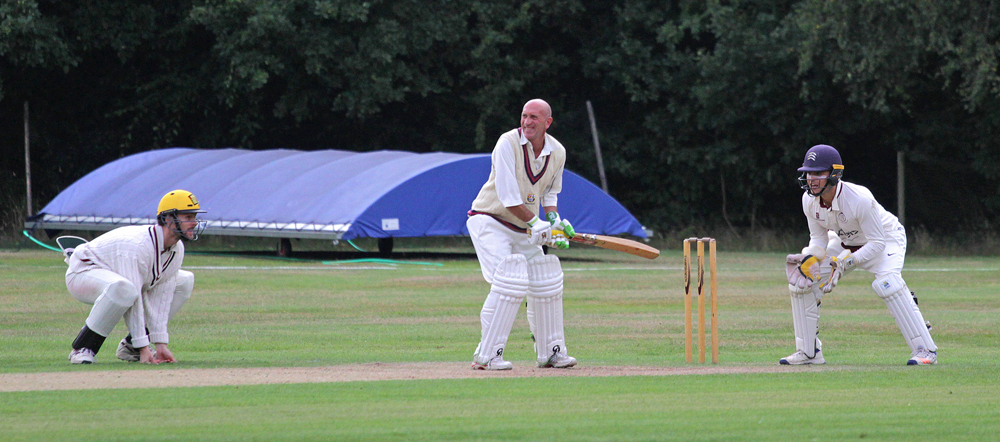 Skipper Karia's patient innings came to an end when, after lengthy consultation, the umpires concluded that a low full-toss from Hollman had been inside-edged onto the batsman's boot and had carried to Parslow at slip (95-8, 22); the batsman was thoroughly bemused and only reluctantly left the crease. Mullahzada hit a boundary but was then bowled through the gate by MacQueen (100-9, 4), and in his next over the same bowler castled the patient Marc Reingold round his legs attempting a sweep (101 all out, 8), leaving Hanson stranded on 1. Here is the celebrations after one of MacQueen's wickets -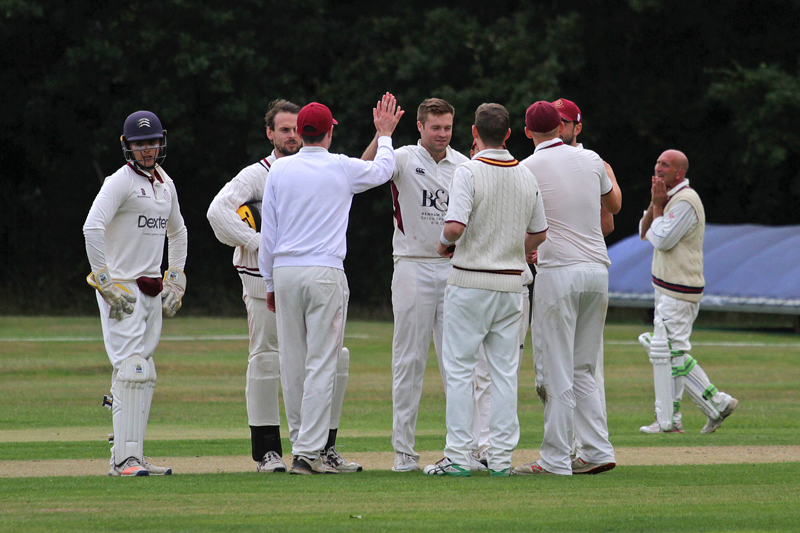 Hughes bowled with his customary control without ever reaching his highest standards (13-5-28-3), MacQueen bowled accurately to snare the tail (8.2-3-16-3), Harris continued his well-pitch-up rhythm interspersed with heavy bouncers (6-0-31-2) and there was a wicket apiece for O'Driscoll and Hollman. North Middlesex therefore won by 99 runs and scored 12 points which put them level with Ealing at the top of the table, who also won and scored 10 points (batting second). This had been a real team performance with both runs and wickets shared, and the visitors showed plenty of character and patience in the second half of their innings: they are always an effective unit when batting first. With four 50 over games left it is level pegging: 'who dares wins'. One man whose finger nails will suffer over the next 4 weekends is the 1s Manager, the incomparable Steve Nurse seen here undertaking just one of his many duties - walking our esteemed Scorer's Lab who is being examined by part time Vet Dr O'Driscoll! -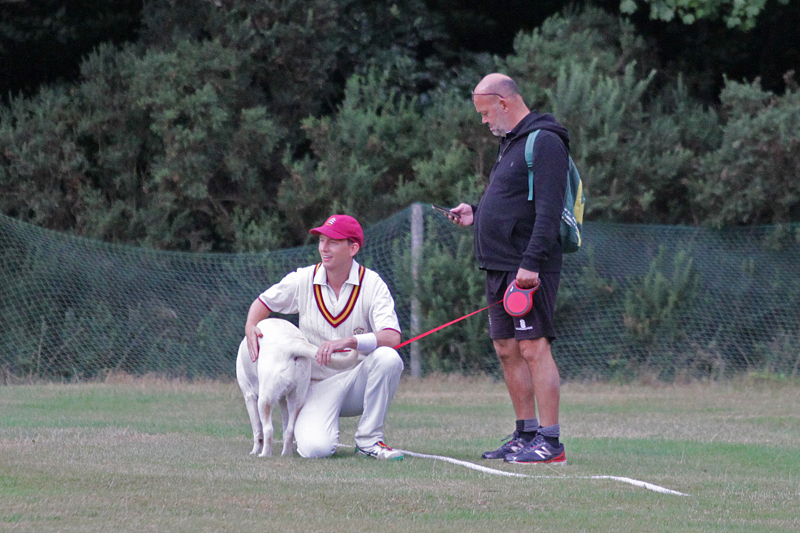 Mark Williams Glossary: 'Michelin Man': the tyre icon (heavily padded up). See pic above.
North Midd 2nd XI vs Highgate (Home)
Highgate 207-9 from 53 overs
North Midd 208-1 from 40ish
North Midd win by nine wickets
This Saturday saw the 2's escape the Shepherd's bush and navigate their way back to Park Road and winning ways. Preparation was slightly different for this fixture, as 8 players, 1 scorer and 1 sausage dog battled the miniature disasters and minor catastrophes that removing the cover in the gale force wind entailed. Luckily, we came through these tornadoes unwounded, although Alfie Duke subsequently headbutted a ball in catching practice to leave with an eye shiny enough to find some lateral movement itself. A rare toss win gave Mills his first chance to insert anything since his honeymoon, and the middies took to the field in jumpers and long sleeves for the first time since April. Teesdale, hair recently shortened so it no longer intrudes onto his playing gear, soon warmed to bowling into a tornado as he found ample away swing most deliveries. Together Hugh and CYS bowled tight enough to limit "the Gators" to a meandering 3 an over off the first ten. After seeing one go down in the cordon , and being warned for a beamer (happens to the best of us) Hugh fired up and knocked over the no2's off pole with the last ball of his spell. Both Hugh and Charlie deserved far more from their opening spells. It's also probably worth mentioning at this point that the umpires, having seen the bails disturbed by the hurricane going on perhaps 15 times as the bowlers were running in, had abandoned the entire concept completely, and the bails were tucked away in the coat pockets (much like both umpires index fingers).
Hugh's wicket brought to the crease Australia's response to FIGJAM, Highgate's overseas who tonned up against us in the early season reversal of this fixture. The introduction of Willy Nic saw FIGJAM survive some big LBW shouts. There was no rest bite at the other end either as Alfie had squashed his beef with cricket balls and was getting our ball to talk for England. And so began a really high quality passage of bowling where neither Torch nor Duke bowled any ball that a batsman would want to face. Torch was rewarded with the wickets of both number 1 and number 4, 15 overs but only 30 runs, Highgate adopting a corn thin batting style - no substance and nutritionally desolate. Together with the number 5 FIGJAM did start breaking away from corn thin cricket, he started seeing the ball nicely and pushed our fielders back with some creaming cover drives. It was with one of these drives that he passed his 50 to rapturous silence from his onlooking teammates- geniuses are often misunderstood...
After a flood break, the introduction of Lowe stifled FIGJAM slightly, although some bat swashing from the other end saw the run rate steadily increase. Ever the man to not trust his partner, FIGJAM ran himself out on 70 trying to get back on strike. As Highgate looked to run out their 55 overs, Lowe picked up one and then Teesdale returned to take two more wickets before he was invited to stop bowling mid over by Rev for bowling a second beamer. CYS replaced him and finished the innings off with a wicket maiden - not the textbook finish from Highgate, but they had crawled their way up to just above 200.
Torch and Howeld opened up for us and begun the innings with a romping stomping tempo. Nicoll didn't have to be asked twice to pounce on the width on display from the Highgate openers, and Henners was handsome down the ground on numerous occasions.
Here is Will showing control and the full face of his bat -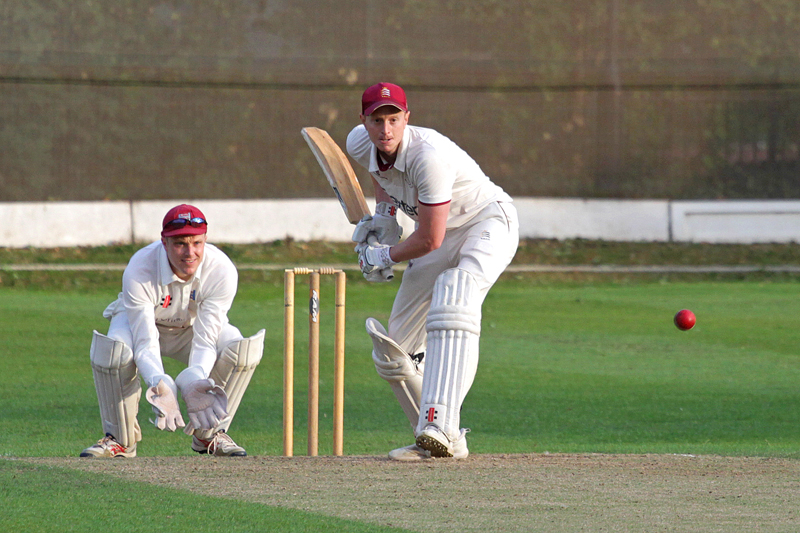 The score had reached 66-0 off 10 overs before Henners dragged his foot out whilst driving and was smartly stumped off the opening bowler. Torch continued to power on though, flaying the ball round the ground despite the several fielders on the boundary. Willy Nic raced past 50 and through the 60's, and Shirls joined in the fun too by hitting a rare bomb as well as being as vigilant as normal with hitting gaps. As the partnership passed 100, the 1's flooded the ground, bolstered by their own crucial win, and were in loud voice to cheer on the final few overs of our innings. They were in for a treat as Flambos Nicoll reached his second ever ton with a glorious leg glance for four. Here it is -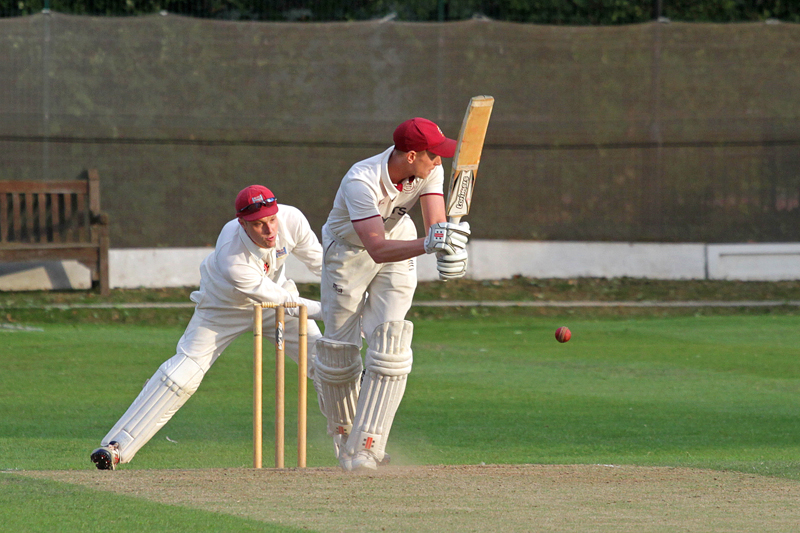 Chants of "there's only one Willy Nicoll" rung around Park Road, led by our esteemed captain Cat, who due to slight bruising on his middle finger as a result of a dropped catch, had spent much of our fielding innings in excruciating pain, but was now in full lager fuelled voice - and had been since about tea.
Here is Will's celebration -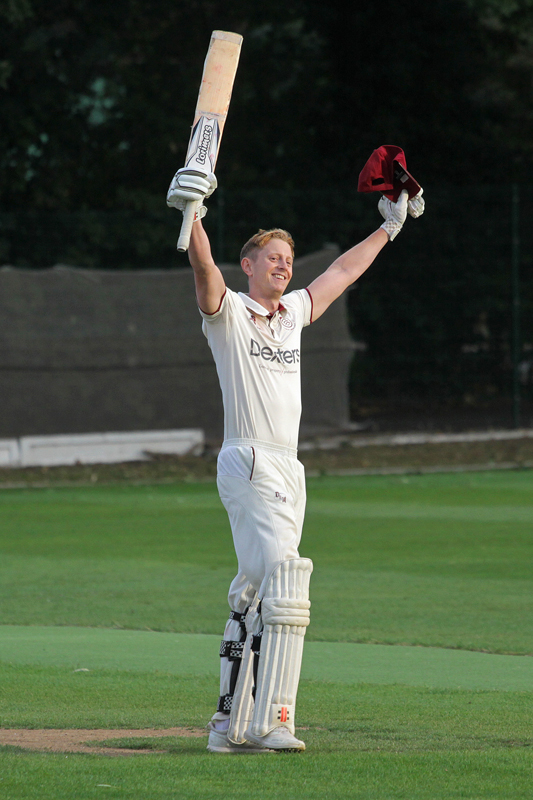 and being greeted by the Cat himself -
and by a jubilant Rob Brand -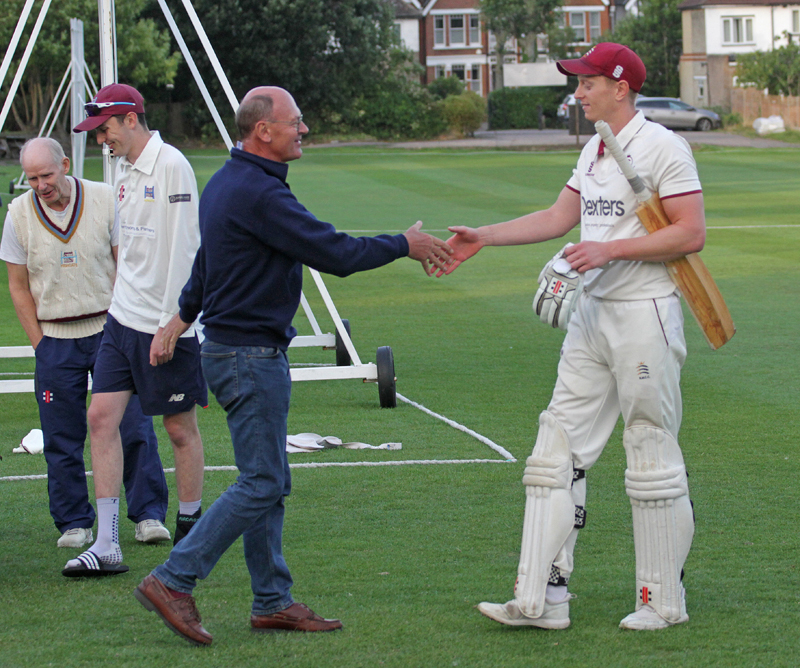 The songs continued till we crossed the finish line , 1 down, Willy Nic 114* , Shirls 48* . 10 points with the laissez-faire arrogance of the title winning North Midd side of the last 3 years. You just love to see it, onto next week fellas.
North Midd 3rd XI vs North London (Home)
North London 181/10 from 50 (fifty) overs
North Middlesex 156/10 from 39.4 overs
North London win by 25 runs
All aboard, all aboard. This is a one-way service to CollapseVille. This train is formed of three parts. A glorious, unadulterated omnishambles of a run-chase - the kind that has been long-since trademarked by the Mighty Threes. This was an effort that began badly, got worse, found a way of worsening itself still, before the briefest of hope was interrupted by a middle stump flying through the air like a fecking great whale leaping out of the water. Perhaps we should have seen this coming when Friend, the Argentine Gower - skippering in place of the holidaying Cracknell, had opted to win the toss for a change. A rarity in a frustrating season that had seen three consecutive winning draws against three sides who showed absolutely zero desire to embark on an attempt to chase decent targets.
Richmond, especially, had wasted everyone's time. Chapeau, gents. I hope that one point tasted mighty fine. But here we were, taking on the pleasant gentlemen of North London - the neighbours you'd happily have over for some Boxing Day leftovers. No poor chat, just eleven blokes here to play cricket. Quick, let's have them stuffed. With the Midd having elected to not be left frustrated by having an opposition nine down, a different frustration instead ensued. Genuinely, nothing happened for ages. Kia Super League winner Gole bowled dots from one end, while Hulk Bogan bowled dots from the other. 14-1 after 10 overs soon became 58-3 after 30 overs. How, I hear you ask, did the Midd balls up this particular venture? Good question, your honour. Timmy O'Neill - taker of 1,000 first-grade wickets - and Doctor Mishra were well into their work by this point. O'Neill - the 1s overseas player back in 2004 - was not hit off the square until the 40th over. Extraordinary scenes.
While these scenes were transpiring, so too did it briefly lampoon it down with rain. Fairly torrential stuff from Poseidon and the lads. As conditions became increasingly rancid, the one batsman who appeared capable of giving it a good ol' thwack decided that he should rather be dry. He clipped a leg-stump full toss to midwicket. Good. Plans. A brief delay followed as the rain rather hosed it down on Park Road's usually Saharan microclimate. However, this was complicated by the sad passing of one of the covers. Taken by a sweeping Gayle - Chris, not the patisserie, we all watched the thing rip in two. Actually quite harrowing viewing - like tearing your own trousers. One way or another, the esteemed visitors dragged themselves to a final total of 181 from their 50 (fifty) [FIFTY] overs. Fun for all the family. No declaration was forthcoming. Highlight - perhaps of the season - came in the runout of the North London skipper, who was the victim of a piece of cricket that summed up a rather below-par performance. Langdale shied at the stumps. The throw was garbage. It hit Kenna and deflected onto the stumps as the batsman tried to avoid it. Wonderful scenes. Well done all. Meanwhile, Price was appealing for ridiculous hit-wicket attempts when the 40mph winds were quite patently the cause. Good shithousery. Not as good as North London, however, who told us that they had fed Acton peppermint cordial at drinks a few weeks ago as a row between their 3rd XIs continues. I doff my cap, chaps.
Anyway, tea followed. This writer did not have any as he was searching for a match ball. Indeed, this writer did not have access to the stash of Dukes stored in Capitan Cracknell's bedroom. Big fine awaits on his return from his annual session of self-sunning. Post-fusilli (one assumes), there were runs to chase and a title race to cling onto. Alternatively, we could pull ourselves out of it like bringing a bulldozer to a game of Jenga. The key to truly understanding what followed really depends on one's comprehension of what a collapse must entail. Is 14-0 enough of a height from which to fall? Or was this simply a clusterfuck waiting to happen? Either way, having talked up the strength of this week's side, the irony was not lost. First, Friend redefined harum-scarum, going hell for leather from ball one. This, naturally, did not last long. Apologies. Absolute dog's dinner of a knock. Good old-fashioned garbage after pulling his first ball for a one-bounce homer. This, at least, was quite a shot. Once the skipper fell, so too did everyone else. Junaid was given a lovely little firing to a ball that might have clipped a second set, before Stent whacked one off middle. More. Good. Plans. 14-0 became 14-3. All aboard. Tickets please. Downing had watched this all unfold from the other end - lucky man, quite the treat he enjoyed. Soon, however, he decided to get in on the act, kicking away a straight one. Did anyone notice? Yes. The umpire did. 25-4. Langdale then came and went quicker than Justin Gatlin post-pharmacy. He looked alarmingly at the pitch, as if accusing it of something. Not sure what. But middle stump was on the floor. Bad sign. 46-5. Stop, stop. They're already dead! Well, no. They did not stop. O'Neill added a third blob to a card now resembling an international dialing code. Fibonacci would be proud. Good scenes. But then, cometh the hour, cometh Doctor Cultured Knock. High elbow, straight bat, defensive strokes. Who are you and what have you done with Nurse Slog-fest? Soon, alas, normal service had resumed and he had been well caught by a chap who had earlier put in a staggering effort under a high ball. Never had one man ended so far from a ball that had gone so high. 88-6 became 90-7, with Kenna opting for a watching brief after suffering a nosebleed having being asked to bat as high as nine. Gole replaced the Kiwi and batted with far more brain cells than some others to take us within 30. When the NLCC left-armer returned - we had made him look like Wasim bloody Akram, he knocked over her off-stump. With three overs to go, Barrow fell. Game over. 25 runs short. A special mention to Barrow, who was a shining light amid a pile of turd. An ugly duckling amid a flock of roadkill. Fabulous knock - 84 out of 156. He deserved to win. In truth, the rest of us probably didn't.
That's probably the end of a title charge that has sputtered along in fairly faulty fashion. That said, it's been bloody good fun along the way and we play our cricket in the right way, enjoying each other's company. North London were a cracking bunch and they stayed for a long while, joining in an extended fines session before sticking around for a few drinks and a laugh. Good blokes. Lovely to play in a good-natured game like this. Shame to be on the receiving end. Four games to go. Forty points to get. We'll see where that takes us. Be available. You can't win 'em all.
North Midd 4th XI vs Shepherds Bush (Home)
North Midd 224 all out
Shepherds Bush 214/4
North Midd Losing Draw (1pt)
Now sitting in the pleasant mid table obscurity following 10 points last week the 4s headed to Douglas Eyre to take on a Shepherds Bush team very much in the promotion hunt. Given their questionable decorum in the reverse fixture we were expecting an unpleasant contest and Shepherd's Bush were keen to not disappoint. They won the toss and stuck us in to bat and the fireworks started from over #1 as complaints of Magnus batting readiness came on ball 2. In fairness Magnus has made Jonathan Trott look quick to prepare for a ball and the somewhat smug retort of "I'll take my time" probably didn't help the spirit of the game. The opening 10 were a strange mix of horrific full tosses that Magnus was able to feast on and the odd one that nipped back and cleaned Joey through a gate wide enough to drive the W7 through. Magnus was able to round up his 50 based on 48 in boundaries from these full tosses as we jumped out to a decent start of 62-2 from the first 10 overs, but unfortunately fell bang on his half century. KP & Daoud put together a decent partnership, albeit with a few sitters dropped by the oppo before falling in consecutive overs in their 20s, KP particularly unlucky to ping a drive back to the bowler only to juggle the ball 5 times before it finally stuck. Next to come was the real controversial point of the game, Nick T kicking the ball off middle to 1st slip only for St(navin)ie Wonder umpiring to claim it wasn't caught or LBW, which led to a few arguments throughout the day. Nick T (35) along with Louis (20) & NLW went on to put a very respectable partnership following this, despite a constant barrage of abuse from the oppo which even concluded in their Auzzie opening bowler attempting to tackle NLW as he ran a single, not the best lad in the team to try that on. NLW adding 41 with a few late bombs (now taking him joint top of the 4s bomb count in 1 innings) to get us some really valuable late order runs. 224 all out after a few showers. NLW led us out along with Olly M and both bowled beautifully to ultimately not take any wickets but contained Shepherds Bush to only 50 from the first 15 overs, if there were an award for playing and missing both openers would have won the Oscar as they put on a masterful showing of this particular discipline. Navin came into the attack and their opener was kind enough to toe what was sure to be a wide straight to mid on for our initial breakthrough and the highlight of a short spell before spin took over. With them needing 140 from their last 20 after drinks our fielding was a bit loose as we looked to be allowing Shepherds Bush to dictate the game, Magnus putting in a particularly noteworthy two footed tackle reminiscent of Roy Keane to Alf-Inge Haaland, on a ball driven through cover that then went to hit the boundary for a 4. Daoud did manage to bag a few wickets, including a sensational Stokes style diving 1 handed grab at 3rd man from Nav (5-0-26-2) and did a great job to peg them back. This left them needing 38 from the last 4 and back into the attack NLW, what was a match saving maiden followed by only 6 from his last over at the death, there were again plays and miss aplenty. (15-5-50-0) Fantasy league makes that a -40 bit his spell was without doubt a match saving performance. They finished 214-4 and I might add a great feeling to deny such an unpleasant group of people a win. Still 6th in the table and back to overs cricket for Hornsey at home next week!
North Midd 5th XI vs Brondesbury (Home)
Brondesbury 148 from 41 overs
North Midd 149/2 from 31 overs
North Midd won by 8 wickets
After having no game last Saturday against the admin irregular Edmonton, the 5s returned to E17 for a must win game against Brondesbury. Other results and the week off have left the side playing catch up on their promotion push, but we were boosted by a strong side, many of whom have graced the 4s this year. To everyone's astonishment, Charles won a toss and promptly inserted the visitors. In gusty conditions, we began slowly, leaking boundaries early doors as Brondesbury raced to 50. Matti Thal (3/32) restored control with a tidy spell, bowling their opener, before Alec redeemed himself for an earlier dolly by catching the number 3 close in on the leg side. The ever dependable Dykey tightened the squeeze and before too long we had another wicket, the Brond's captain and worlds slowest man spooning a catch to Charles. Dykey would later return to mop up proceedings and finish with excellent figures of 3/33. Will Frais (2/20) showed impeccable discipline from his 7 overs, despite running into a strong breeze and took the crucial wicket of their opener, an unplayable Yorker doing the damage. Will has put on a yard of pace and bowled a great length - a real handful. Nirusha returned to take the last wicket (1/35). Bronds 148 all out and a superb recovery from us after a slack start.
A heavy shower had the Midd dipping into the elegant prose of the league rules at tea time, but fortunately the rain abated in time for us not to lose the 51 overs we had in reply. Opening up, Alec cut the first ball for a couple to make Bronds fearful of a repeat of the 90 he crashed at JFS school. Alas, he was caught soon after, bringing Will to the crease. Alongside him, AT, much derided and ever dull to watch, went about his work. There were many leaves more decisive that the UK on October 31st. There were hook shots crying out for a gym membership. There was an appeal down leg side almost too tempting not to give the Ian Gould treatment. Yet, for all the stick, this was a class knock. After a couple of boundaries, AT never looked like getting out. He passed 50 for the second time in Midd colours, before moving through the numbers to finish an invaluable and outrageous 85*. Arj (16*) crashed four of his 5 balls to the fence, fuelled no doubt by a desire to get back for a glass of red.
All in all a super display. TFCs for three of us and 10 points. Cup final style game against top of the league Winchmore Hill next week. Pls be available!