Very good day for the 1s who beat current Champs, Richmond, by 73 runs at the Midd whilst Ealing lost narrowly to Shepherds Bush. This meant that we took 10 points and Ealing picked up 2 losing bonus points because they took 8 wickets. Three games to go - win them all and we will be Champs – come on Boys!
Here are match reports for 17 August 2019 -
North Midd 1st XI vs Richmond (Home)
North Midd 270 for 7 (50 overs)
Will Vanderspar 83 not out
Richmond 197 all out
Tom Nicoll 3 for 38
North Midd won by 73 runs
Report not yet supplied but here are some pics courtesy of the incomparable Conrad Williams -
Vanders walking off undefeated at the end of the North Midd Innings having scored 83 match winning runs -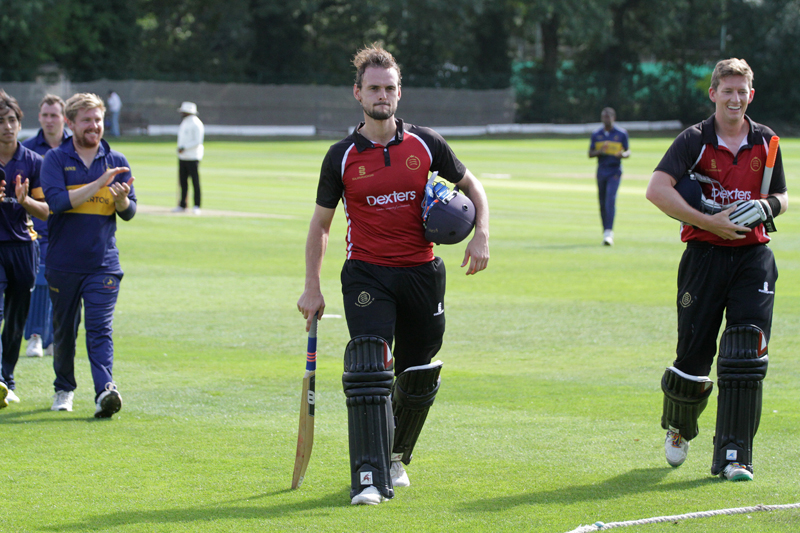 Dr. Liam O'Driscoll in full flow -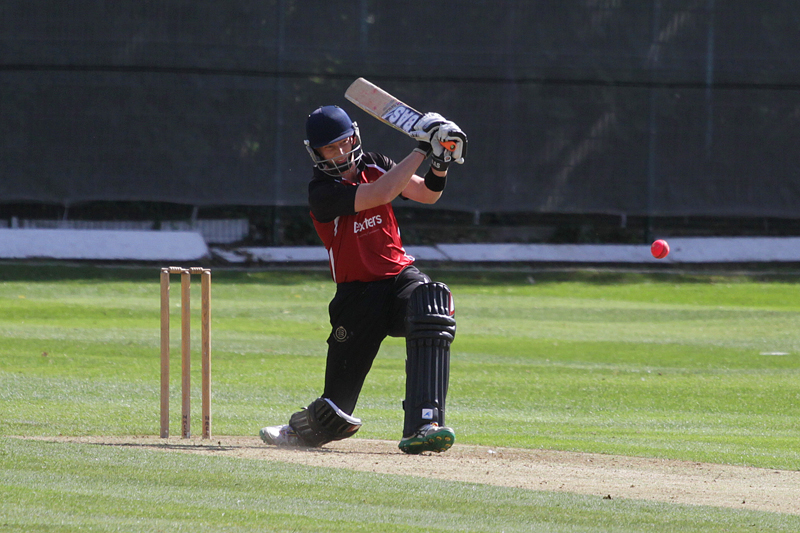 Tommy Nicoll back in the runs -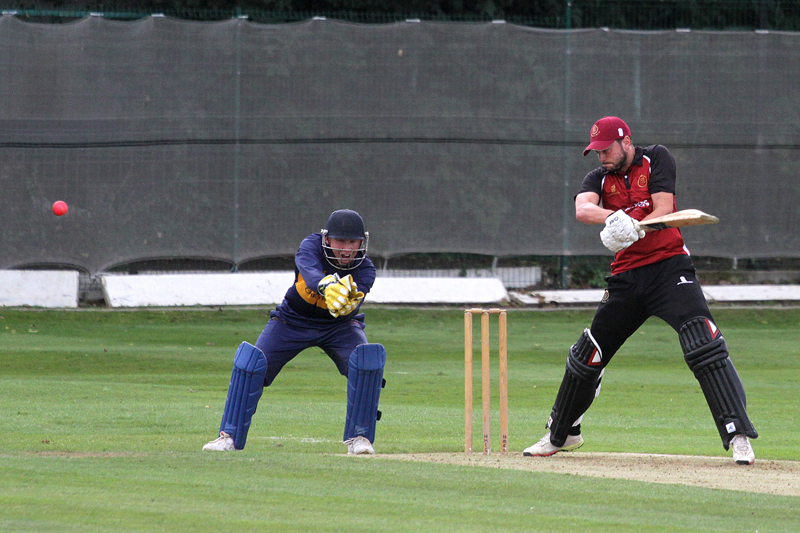 Beast Farenheim in action -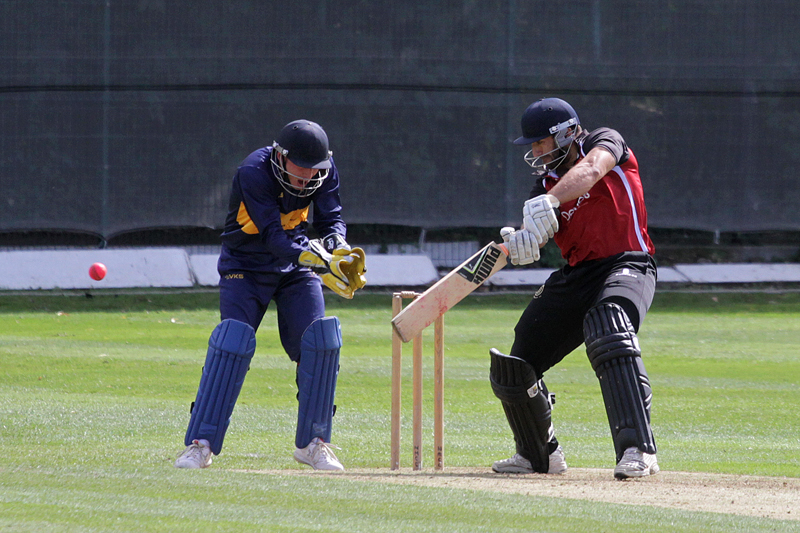 Victorious team leaving the field after another big win -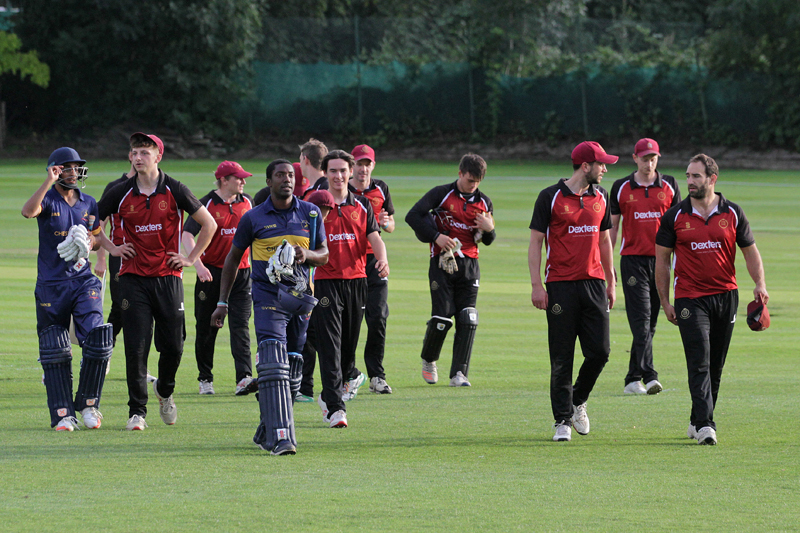 North Midd 2nd XI vs Teddington (Away)
North Midd 224ao (Holmes 106)
Teddington 197ao
North Midd won by 27 runs
Raincards played, SouthWestern trains delayed...and an absent Mills: It must be Teddington Away. Saturday was upon us again. The middies splattered into Bushy Park from all corners of the city, and by the time play begun a fairly hefty Uber bill had been swallowed by Pricey, and Nursey's Instagram story had morphed into a biopic about a particular Deer he saw wandering the green of Bushy Park. Lengthy discussions about bowling first preceded Shirl's announcement that we had been invited to bat by Teddington. The Bow buddies Nurse and Chambers were the first to represent the Midd at the crease, and they started nicely- the highlight being a dismissive straight homer that got the better of a small portion of the sightscreen. Don't bowl there to Chambo. Unfortunately the place to bowl to Chambo was soon discovered and his stumps were worse off for it. In the meantime Nurse had nicked off to a goodun to leave us 19-2 off 5 with both our East London representatives in the hutch. Teddington minds would have flashed back to scenes of their rompy reverse fixture win over us where we rolled and tickled into an effort of just 60 runs. Luckily the in form weeman had other ideas as he and Chad begun to build a steady partnership containing some the finest dabs to third man ever seen in the Middlesex league. Interspersing the dabs was the odd swashbuckling Mayo cover drive, and occasionally Shirls would get his ladder out and climb ontop of a cut shot. From this balanced batting came a pleasant calmness, that quite frankly club cricket is unbefitting of. Thankfully Chad departed the crease LBW, despite maybe/maybe not smashing it, in the 11th over to break this calm. It was Iceman Cracknell in next, and thus the two most level heads were out in the middle. This showed as they both negotiated a slow pitch. They went at 5s for a 25 over period no sweat, in which time Shirls passed 50 and the partnership became worth 120. Matt was eventually caught trying to move the innings along on 42. 10 overs to go and the middies on 160-4, a good platform for the bomb squad to capitalise on. It would turn out that the bombers had turned pacifists for the day. First Zulf was involved in a mix up between the wickets to depart for one, next Henners played an innings to match scratchiness that an Edward Scissorhands violin concerto would have. He eventually fell for 6, caught at mid on with his head a long way up a cumulonimbus. Lowe would depart in a similar way for the same score 2 overs later. Next in was Lulu, who stayed out there with Shirls as he calmly made his way through the 80's and into the 90's. Unfortunately though Lulu did succumb to a Yorker from the returning opening fast bowler for 8. Shirls, slightly more urgent now there were 3 overs left, brought up his ton to warm applause and cheers. There couldn't have been a more appropriate knock to play nor a better way to go about it than Shirls hundy today- play on player. We eventually finished on 224 all out , just shy of our 45 overs.
Despite becoming momentarily lost in a world of beige food (a new phrase for Nursey) and the SmithVArcher battle, the middies soon made their way back onto the field to defend 224. Birdy flew in from the top end and bowled some balls that were quite frankly far too good for the Teddington openers. Lowe too beat the bat on numerous occasions , drawing a chorus of Flo Rida's 2008 smash hit "Low" from the cordon. Bird would be the first to make the break through, no2 wrapped on the pads in front of middle, 34-1. Con replaced Lowe at the 12 over stage, into the wind and aiming to emulate fellow balding spinner Nathan Lyon (although his first over induced jeers of Tredwell and Reeve). His third over would do just that, first the opener caught at midwicket by Mayo for 48, then very next ball the newman lost his balance playing a forward defensive and was stumped by MCrack. In the meantime, Howeld had replaced Pricey who had replaced Birdy, and after ripping a few past the no3, he duly bowled a long hop that was clattered in the direction of Chambo on the square leg boundary- who took an impressive diving catch running in. 110-4. At this point our tails were up, we sensed a wobble, and despite Mills' absence (he was in Dublin drinking from a shoe) we could be sure that he'd seen us win games from this position "a thousand times before". With these words ringing and with Shirls commanding a field including a short leg and silly point, an enthralling period of cricket began. Nurse continued to toil and tweak and Lulu came on and started with two maidens. This pressure paid off, she employed bunger tactics to bowl no6 round his legs. 125-5. Upon completion of the twirler's spell (9-2-36-2) Chambo(w) took up the mantle from Con. His skiddy pace and length caused issues for both batters, and with Lulu bowling only dots from the other end , the run rate had climbed from 5's to 6's in the space of a few overs. Chambo eventually skidded one through the gate to get his first. And three overs later Lulu took her second as Henners arrogantly plucked one from high with his left hand at mid wicket. 163-7. 60 needed off 10. Bird was reintroduced into the attack and soon had a wicket well caught at mid off by Lulu. Teddington were wounded but still not down for the count, and some boundaries came from some perhaps fortunate willow swishes. Chambo and Price combined however for the 9th, a powerful drive well held by JacktheLad at mid off. It was curtains the next over when Howeld caught a skier over his shoulder to give Bird his third and the Midd a 27 run victory. A Holmes Hundy, a true team performance in the field and relegation made impossible. What lovely scenes.

North Midd 3rd XI vs Eastcote (Away)
Eastcote 120 ao from 37 overs
North Midd 121-2 from 25.2 overs
North Midd win by eight wickets without a collapse
A clinical win. Luke, Dre, Timmy and Daoud excellent with the ball. Downing and Stent superb with the bat. Three to go. 30 points to play for...
North Midd 4th XI vs Hornsey (Home)
Hornsey 197/6 from 45 overs
North Midd 153 all out from 39.5 overs
Hornsey win by 44 runs
The 4s have had a good season in the hands of debut North Midd skipper Tom Greenhalgh, whose wicket taking abilities have improved sevenfold from the year before. His choice to behave himself slightly more on Friday nights seems to be paying off, as he's been bowling far better when not having to fight a hangover while running up. Our local rivals Hornsey haven't had the best of seasons, sitting in the collection of teams at the bottom of the table, 33 points behind us. This didn't seem to put quite a spring in their step, as they turned up after the 12:30 start time, claiming traffic as their excuse, clearly forgetting that we come from roughly the same location. In amongst our serious pre-game preparations, Joe James contributed to the comedy of the day, not realising that George had moved the chair behind him and taken it for himself. As Joe went to fall back into it, all he found was the enjoyable feeling of hard ground on tailbone, and chair on spine. While he was momentarily neutralised, the other boys got themselves ready for a match that we knew we couldn't afford to be complacent about. North Midd's openers Ollie M and Navin started off proceedings, with the former proving yet again how often great spells of seam bowling go unrewarded in 3s cricket, with the batsmen not able to get ahold of his great lines and lengths. Navin meanwhile was bowling beautifully in his opening spell and got their opener to absolutely smash it into the gloves of keeper Grylls, but somehow got no reward for it as the batsman didn't walk and the umpire said he didn't hear it. It was probably for the best though as their opener wasn't going anywhere fast. He clearly had the foresight to know that he was more likely to score runs off the change bowlers, which honestly he should've as the skipper Tom brought himself on and immediately settled into a barrage of half trackers and full tosses. In between the batsman turning these deliveries from 4s into dots, their opener opted to try and sweep three consecutive Greenhalgh deliveries. First one went past the stumps, second one was inside edged and the third was a full toss which slumped into his front pad and trapped him LBW. The fall of wicket led to the start of the Greenhalgh/Hayward spin partnership, as Louis got off to a great start turning a beautiful delivery past the charging opener for an easy stumping. Their number 3 settled and played a very well measured innings against a bowling attack that wasn't doing itself many favours. When their number 4 came in and tried to put his foot on the gas it momentarily worked, before he smashed one of Tom's half volleys straight back at the bowler. It all happened in the blink of an eye, Tom internally regretting the pints from the night before, slowing his already sloth-like reflexes, but his suddenly outstretched hand managed to cling on with two fingers. The surprise on the skipper's face was enough of a celebration as no one could believe what just happened. Navin cleaned up the next batsman trying to get a move on with a spongy pitch bouncer that went up over his pull shot and came down onto the stumps. Ollie M finally had his fantastic spell of bowling rewarded with the wicket of their number 6 and KP got a late run-out as Hornsey finished on a handy total of 197-6 from their 45 overs. North Midd knew they had their work cut out for them on a bowler friendly pitch, especially without the Golden Goose to score the runs. Alex Thomas and Jonny Gould took to the crease, to get us off to a positive start. Unfortunately Hornsey got off to a tight start with the ball, with Oscar Wood's right arm Sohail Tanvir impression proving tricky to face. Twelve overs in and we lost our first wicket, the pressure taking its toll and Jonny got bowled by their consistent Welshman. Joe James came to join Alex who'd been ticking along nicely at his usual place, until he absolutely murdered a pull shot for a huge 6, keeping him top of the 4s bomb count. This was followed by a couple more boundaries and then his own wicket as he was caught off their awkward opener. KP came in fresh off his many holidays abroad, with the complexion of someone who's been sunbathing in the shade, keen to add to his runs tally from last year. When his first four scoring shots went for 12, it looked likely to happen as the Hornsey bowlers kept pitching the ball short and getting pulled away. Joe James on the other hand didn't enjoy the lengths the bowlers were bowling and ended up knicking off Gary Ballance-esque, trapped back in his crease. Louis H came in and settled in with KP, comfortably playing their seamer and off spinner as they built a 36 run partnership. In between overs Louis mentioned he planned to come down the pitch to neutralise their offie, only to come down the track and drive the first ball of the next over straight to mid-on. Alec came and went, edging a ball that would've been easily given as a wide almost off the strip. George rode his luck and ended up getting caught, as the 6 an over run rate on the uneven pitch mounted more and more pressure on the batsmen. KP had just reached his fifty and looked certain to try and push to be there at the end, focusing on trying to attack the off spinner. The second ball of the over turned down the legside and went past the pads, with Alec signalling the wide, only to look up and see KP walking off who knew he'd edged it into the keepers gloves. A poorly timed piece of good sportsmanship. Sadly the run rate ended up being too much and the last couple of wickets fell quickly, including Navin's duck which earned him the reward of being the recipient of Tom's brand new 'Duck Shirt'. The 4s were all out for 153 and only Alex and KP ended up in double figures.
North Midd 5th XI vs Winchmore Hill (Away)
North Midd 112
Winchmore Hill 113/3
North Midd lost by 7 wickets
A disappointing day in a crunch clash. We were bowled out for 112 against a tidy attack and despite being well set at one point, 100/4. Bowling wise, Nirusha and Dykey deserve mentions, but we were 50 light to put pressure on. See you next week