So close Lads – please do the business next week at Harrow St Mary's next Saturday – no pressure!
Here are match reports for 31st Aug 2019 - all 1s pics courtesy of our great friend and supporter Conrad Williams -
North Midd 1st XI vs Teddington (Home)
North Midd 298-9 from 50 overs
Teddington 188 all out from 47 overs
North Midd won by 100 runs
Round 17 saw us host Teddington. Captain Hughes won the toss and elected to bat. Cracknell and Hollman started proceedings in their usual rollicking fashion bringing up the 50 partnership inside 5 overs. A beautiful large straight bomb from Luke was a highlight before he chopped one on from Teddington's Viking. Flowers came and went looking pasty from his recent food poisoning antics which brought Cracknell and Parslow together. They shared a fine 99 run partnership before Parslow was adjudged LBW. Cracknell meanwhile was aggressively going about his business and brought up his ton off 97 balls - a fine and timely innings. Joe finally departed for 133 trying to up the ante in the closing overs as he holed out to deep square. After Vanders was out for 40 odd there was some fairly ineffectual late innings wafting which saw us fall just short off 300. 298 though, was an imposing target. The cover pic is of Crackers in full flow. Here are some more from our innings -
Vanders congratulating Joe on his ton -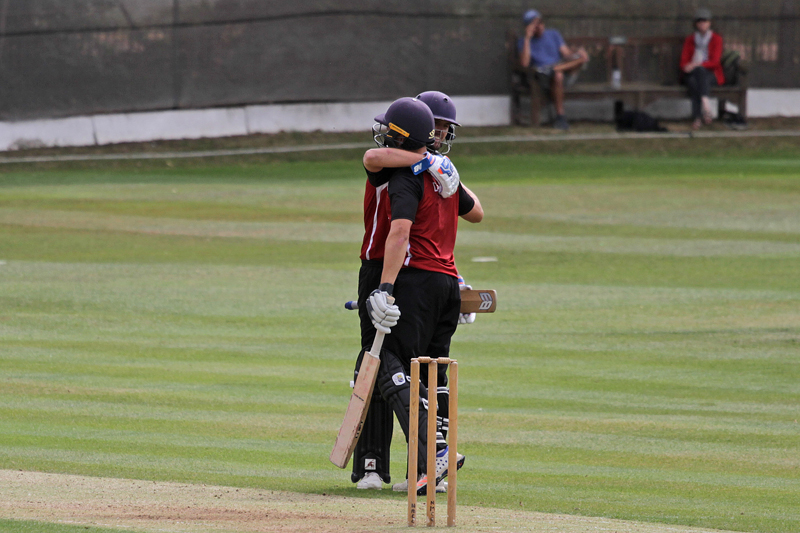 Vanders batting -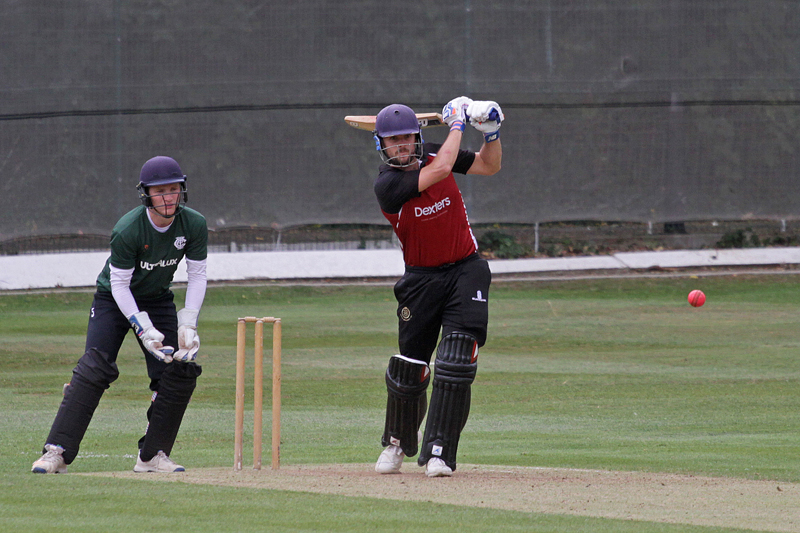 James Parslow batting -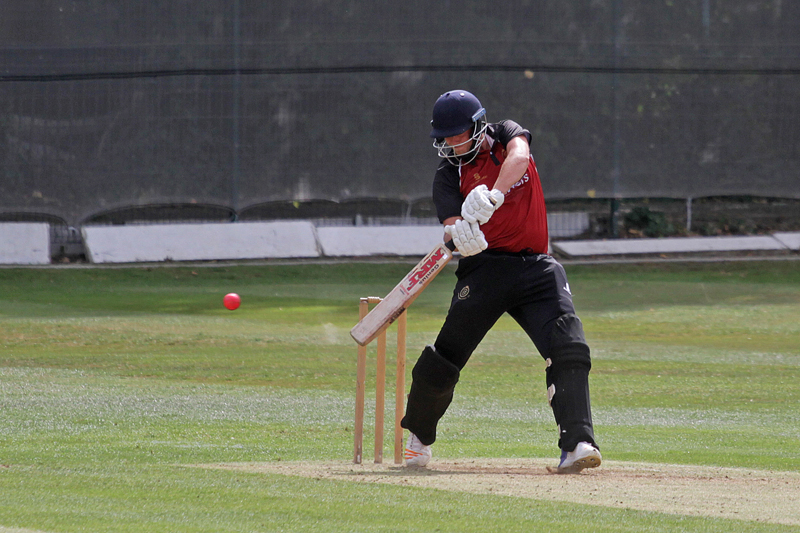 Liam O'Driscoll ("LOD" aka Doc) batting -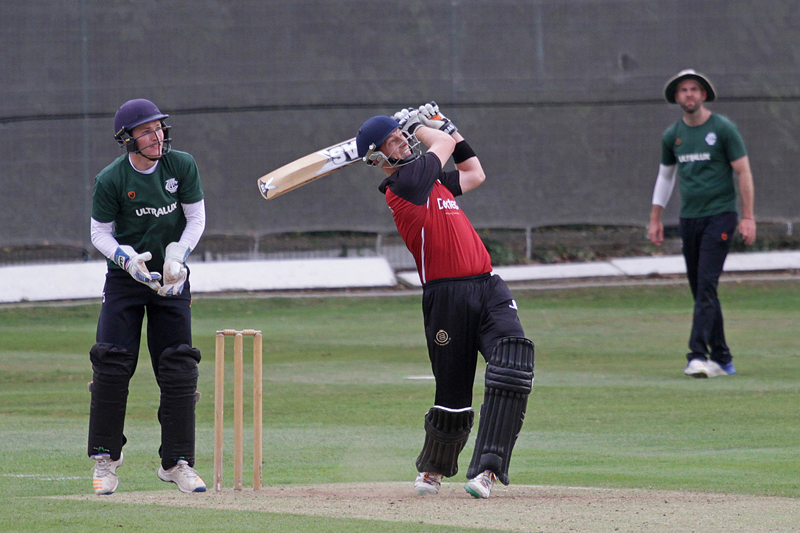 Backroom staff refuelling Cracker and Pars in a well earned drinks break - apologies for Tommy's lack of attire -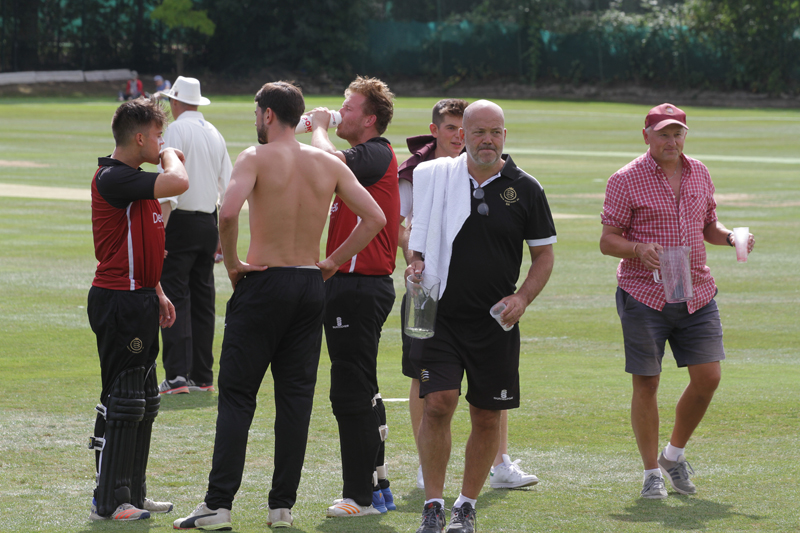 A tidy opening spell from Hughes and O'Driscoll made the run chase ever more implausible. Doc made the first breakthrough after a period of good pressure.
Here is LOD in action -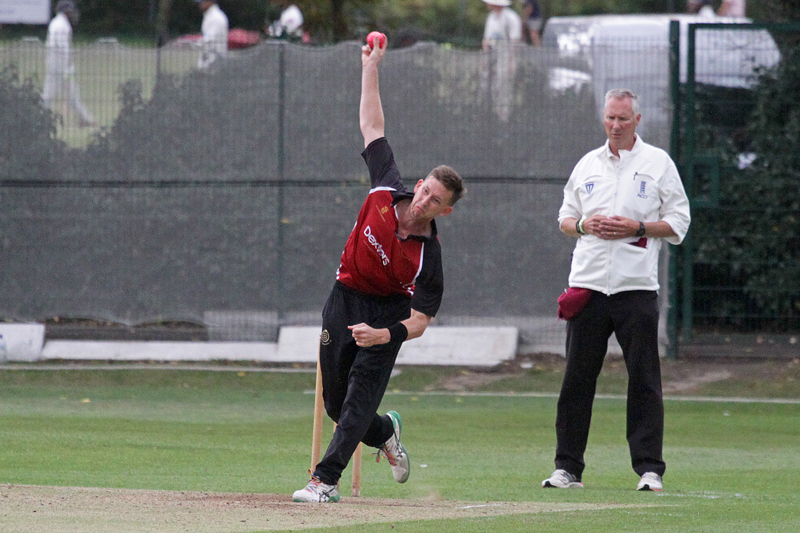 Luke in action -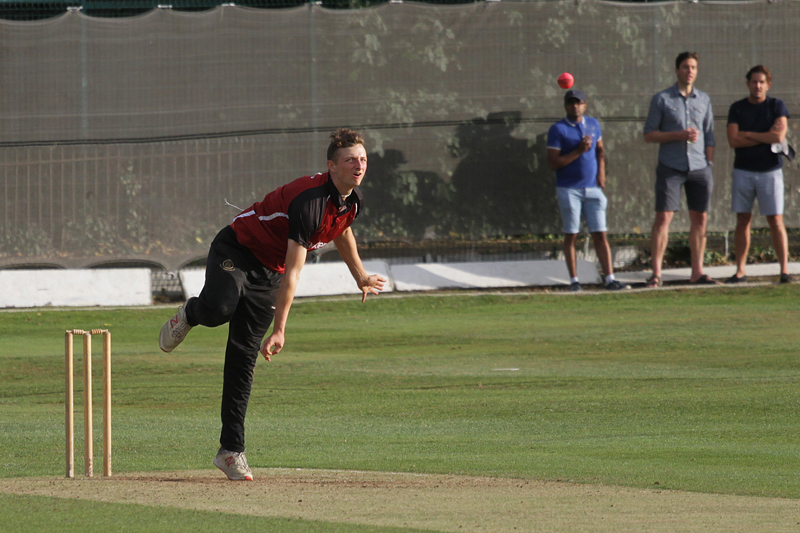 The sky began to darken and with impending rain the race was on to get to 20 overs to constitute a game. Macqueen and Tommy Nic raced through some high-quality overs, picking up wickets 2, 3 and 4 in the process. High quality stuff from the spin duo, accuracy and prodigious turn. Shortly after the 6th ball of the 20th over we dutifully went off for a short rain break. We were briefly held up by a sedentary 5th wicket partnership before Hollman and Hughes shared the last 6 wickets, Hughes, in the process, picking up his 200th club wicket in fine style - a leg stump half volley whacked out to deep square leg and comfortably collected by the safe hands of Tommy Nic.
Teddington were all out for 188, a win for the Midd by 110 runs. On to Harrow St Marys next week where a win would see us win our first premier league title in our 144 year history. What a time to be alive. Up the Midd!
Here are lads coming off the field after another superb win -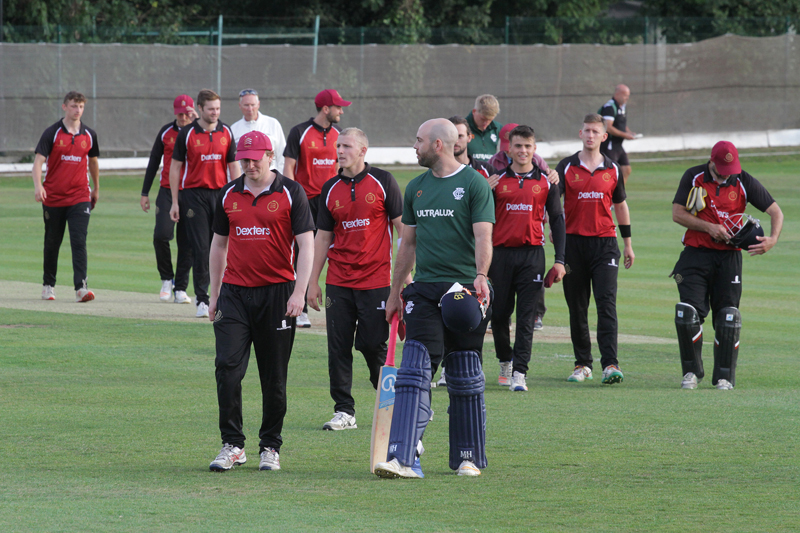 North Midd 2nd XI vs Osterley (Away)
Osterley 210-7 45 overs
North Midd 183-10 33 overs
North Midd lose by 27 runs
2019's penultimate 2's match saw us travel to a land far far away, all the way up the Piccadilly Line to Osterley. It's tough to adequately describe in writing Osterley CC's cricket ground. We were greeted with a wedding party, a temporary stand situated at midwicket just past the 30 yard ring and a soirée of machinery and fast food vans, which acted as a fairly tragic background for the ensuing wedding photos, and for the game of cricket. In the sky existed an omnipresent buzz emanating from the engines of aeroplanes flying low into Heathrow. Now the more informed among you will know that Cricket began as a localised sport, with slight nuances and variations in rules varying from town to town. The Middies were ambushed with this fact in the flesh as they realised the Osterley variation of our beautiful game did not trouble itself with any particular LBW rules. The moment this revelation became known to us, a figuratively dark cloud emerged from behind the stand and several moments of good cricket from us went unrewarded engulfed by this ever burgeoning and darkening cloud. Without delving too far into details, word has it that some of our unsuccessful LBW appeals in the field even outraged those on the easyJet planes on their descent into terminal 4.
We will save a full match report for our letter to the league , but some middies highlights worth mentioning : Birdy 4fa- coming off the back of a tough week last week, Birdy bounced back in style. Credit to Chambo and Nurse for both taking genuinely brilliant catches during Birdy's spell, Chambers a long way over his shoulder, and Nursey diving to his left at gully. Teesdale was as impressive as ever, the shapes he gets on the ball combined with grumpy stares at batsman are both of Joel Hughes quality. Another highlight; After bowling an economic spell in tandem with Torch, Con found himself in a spot or 10 of bother, as a skyer went through his hands and clattered into his meat and veg.
The bachelorettes of Bow and surrounding East London areas can only wish you a speedy recovery Con. In a fairly bleak middies batting innings the only real highlight was Birdy and MCrack's 10th wicket partnership of 53, which had enough bite to temporarily threaten Osterley with relegation. Alas it ended, Bird 13 and the perennially in form MCrack 62* which takes his average this year to a shade under 100 (he's still not the best in his family). In conclusion, it was a day to forget. One more game to go v Richmond (a win for us would stop them winning the league). This would make our (fingers crossed) potential 1s League Victory even more sweet. Rumour also has it that two NMCC 2s legends will be flying over from across the pond to witness it all. Absolute scenes- let's just hope they don't fly over Osterley.
North Midd 3rd XI vs Highgate (Away)
Highgate 118-10 30 overs
North Midd 124-2 23 overs
North Midd won by 8 wickets
Where to begin, I hear you ask. Well after last week, let's begin with some cricket. Remember that? Highgate away. A trip over the fence, perhaps? No. How about a 45-minute drive to Botany Bay, a ground so far away that a game from a different county was in operation on the adjacent pitch. A venue so inadequately thrust in the middle of nowhere that an Uber driver on the return journey turned back in his seat to ask if "anyone knows anything about this area". Alas, we did not. Having arrived at this curiously lovely little ground, the Mighty Middies were immediately informed that the game would not take place on the picturesque main square, but across a small motorway behind some trees. Holy Mother of Denly, what a pleasant little treat awaited the two sides. A cracking little ground, complete with chairs, a scorebox and a seriously flat-looking deck. Crucially, of course, is an opposition side to take on. Fair play to Highgate, who provided one. As we well know - especially with the traffic situation in Leicester, that's not always easy. Thus at 12.30pm, this already looked a tougher challenge than last week's extraordinary shenanigans. What a farce that was. Glorious, thrilling, absurd farce.
Highgate, having opted to field a team, also opted to bat. Capitan Cracknell - back from his travels for a rare August appearance - had lost yet another cash flick. Such is life. Not to worry, for the Midd have the two best opening bowlers in the division. Though not on this brief show of evidence. Sir Terry Bogan chose to storm up the hill, while the Vicar of Dobbley chose to roll down the slope. Bogan served up a diet of legside wides, while Dawn French committed to being carved through point all day like he was bowling to Sir Alastair fecking Cook all day. Instead, he was bowling to a chap called Potter. We shall call him Harry because, well, obviously. Eventually, it was decided that the two seamers were not getting very far. Price declared at one stage that this was shaping up to be a fine game of cricket. No comment.
And then, 60-0 after nine overs became 118-10. All aboard, all aboard. Someone summon the nurse. We will be suing for copyright infringement. This was a monumental piece of collapsing. Someone send us the recipe. First, one-time Middie Johan de Silva contrived to loop a leading edge from Doctor Economy Rate to Barrow. From the other end, Kenna had stopped bowling wides because he had been taken off. On in his place came the Muswell Hill Mushtaq. Little Tommy Francis began to spin a very pleasant little web. Three chaps kicked leg-breaks off middle stump, one played down the Bakerloo Line, which ran a superb service all day, while another chipped to Hologram Langdale at midwicket - a good tactic in recent weeks, but Stent's dad was watching so he pulled out all the stops to hold on. Well done, Charlie. This all contributed to 11-3-30-6. Pretty glorious scenes. A serious spell from a quality young cricketer. A big fine was forthcoming, however, as he initially refused to lead his inferior adult colleagues from the field. Doctor Burgle cleaned up a child to take the last wicket, while there was yet another runout for Louis 'Nantie' Hayward, the genius child. Cracking dummy from the Argentine Collingwood, pulling out a wonderful Sydney Harbour Bridge to facilitate the initial confusion. All in all, the 'Gators lost 10-68. Not ideal, but certainly something we were capable of replicating. First, however, there was tea to eat. And Crikey O'Reilly, what a smorgasbord of grease we had on display. Of all the world's great Bays - Baywatch, Whitby Bay, Baysingstoke, Botany is now my favourite. If you played here all year, you'd be experiencing some mildly serious palpitations, but as it was a one-off, why not tuck in? Garlic bread, hash browns, potato croquette things, sarnies, veggie spring rolls. If you got points for beigeness, Highgate would be top. Alas, you don't. Magnificently beige. Among the best things I have ever eaten, though I can hear my bowels still disagreeing with me, even 24 hours on.
Post-potato things, there were runs to chase. As a general rule, we are bad at this. Guest wicketkeeper Chambo Jr - he of the glass fingers - opened up alongside the Hampstead Garden Suburb Hayden. Chambers plinked his fourth ball to mid-off. Whoops. This brought Stent to the crease - father in-tow, his bat complete with vaseline-smothered edges. All was going rather swimmingly for a bit. And then a not given, disputed caught behind off Stent. Safe to say, this gave a game with no edge a little bit of edge. It actually wasn't much fun after that, such was the abuse coming the way of anything dressed even in mild burgundy. Friend, certainly, wasn't sure what he'd done wrong. Stent, meanwhile continued along his merry way, taking abuse from all over the shebang. Then, it started to lash it down with aqua. Friend took this as his cue to end a fairly horrible knock - he was dropped four times in his 16. Arguably, the worst knock of the season. The argument, of course, centring around Cracknell's two efforts against Barnes. In the end, the Mighty Midd won fairly easily. Barrow 20*. Stent 65*. A win by eight wickets that relegates Highgate. A shame given that they're nice blokes. An even greater shame as You Know Who have stayed up. Hampstead won the league on Saturday, by the way. Next year is our year etc. When we're at full strength, we win this thing. Such is life. Cracking fun in store for next week. We play our cricket the right way. Francis bloody excellent. Hayward a joy in the field. Stent 65 not out. My word.
North Midd 4th XI vs Brondesbury (Home)
Brondesbury 224-5
North Midd 161 All Out
Brondesbury Won by 63
One final trip to Douglas Eyre for the season to take on a Brondesbury side with the pleasant backdrop of mid table obscurity for both sides. The groundsman's mower had apparently broken before the final cut so the track looked green and lush, although the need for a hammer to get the stumps in suggested it was a firm deck beneath. Tom won the toss and opted to bowl so he could enjoy a heavy lunch as #11. In hindsight this was a poor decision, although when Alfie removed their opener's leg stump with his first ball, but this was really the peak of our day. The outfield was lightning quick and the Brondesbury pair set about racing the ball to the boundary with alarming regularity without really giving any real chances. Tom introduced spin from both ends which helped to slow down the runs and restore a bit of control on what would turn out to be an absolute bunsen. A few half chances again didn't go to hand before Tom, master of the non turning ball ripped the ball from outside the off to remove their openers leg stump for 55. 143-2 at drinks always left us looking to be chasing a large total. Tom & Nikhil continued after the break and did a really good job to drag the run rate back. Nikhil (12-0-69-0) bowled beautifully and deserved a wicket for a great spell but the burglary came from the other end as a C&B and a sharp catch from Alec left the skipper with respectable figures (12-3-39-3) just a week after being unable to pitch the ball on the track. KP (5-0-25-1) and Alfie (10-1-54-1) finished off the innings well with a strong 106 red from their number 3 leaving us 224 to chase.
AT (6) & Olly M (5), with a full license to swing from the hip, opened up but both chipped shots straight to a fielder leaving us 15-2 in reply. From the other end spin was the end did the same to Magnus (8) before after being given a second life as their skipper put down a sitter KP (5) was trapped in front to a ball that was nearing impossible to see in the darkness & sideways rain to leave us 38-4. Joe James (13) & Bridgeland (51) played nicely and added some respectability to the scorecard as they dragged to drag us to 104, before Joe J slashed at a wide one and was caught behind. Bridgeland kept going and was batting beautifully, dispatching the ball to all parts to keep us up with the rate but once he was finally dismissed amongst a flurry of quick wickets, 116-7 always looked a tough position to recover from. However, Nikhil came in and picked up where Joe left off adding a rapid 25, with his reverse sweep for 4, straight out the Ben Stokes handbook the unquestioned shot of the day from either side. After he was dismissed the skipper didn't quite play as fluently with his only runs coming from a pool queue shot off the toe of the bat before swishing past a straight one as we were dismissed for 161. Results elsewhere confirmed our position in the table as 7th and safe before we head to Southgate next week to wrap up the season.
North Midd 5th XI vs Finchley (Away)
North Midd 231/8 from 45 overs
(Tair Hussain 67, R Nicoll 41, G Johnson 21*, Extras23)
Finchley 224 ao from 39 overs
(Navin Surtani 4 for 55; Sanjay Suri 2 for 49; Extras 39)
North Midd won by 7 runs
Deputising for Charles (on reffing duty), Richard won the toss at the compact and tree lined Christ's College Ground and elected to bat. From the outset the pitch was difficult with steep bounce from just short of a length, sideways movement and the odd ball staying very low. We lost Nathan Laddie in the 5th over to an unplayable ball. Will Frais (18) and James Laddie (16) played some lovely pulls and drives to take the score to 40 when Will was bowled by a shooter. James soon followed with one that cut back and kept low – 40 for 3 and wobbling in the face of a dodgy track and some decent bowling. Richard (41) and Linus Wainewright (15) steadied the ship with a partnership of 57 to take us to 97 when Linus was well caught. Enter Tair Hussain who was destined to play a major role in the outcome of the game. He started cautiously and then accelerated with a flurry of shots. With the score on 128, Richard was run out going for a second run by an excellent throw from the square leg boundary. Ed Boyd then played a useful support role with the rust visibly falling off Tair as he rediscovered his class and power at the other end. When Ed fell to pace man Daniyal, the score had reached 146 for 6. Next in was George Johnson (21 not out) who played splendidly, primarily allowing Tair to farm the strike but playing some quality shots of his own as well. Tair batted with power and style – no slogging just classic straight drives down the ground and some unstoppable cuts and pulls. Finchley's heads started to drop as this pair took the score to 200 and beyond. Tair was eventually run out in the 45th over. We finished on 231 for 8 - a decent target given the quality of the pitch and Finchley attack. We also benefitted from 23 extras.
A tremendous pick up and throw from Ed Boyd ran out one of the Finchley openers – 5 for 1 - a great start. 15 for 2 when Sanjay bowled a startled Richard Sarfo behind his legs. An excellent partnership followed between the Finchley skipper (who scored big runs in the home fixture) and the classy Daniyal. Some tight bowling from Will produced a rare mishit from Daniyal to long off which was snaffled by Sanj . 87 for 3. The skipper followed also caught, this time by Linus low on the square leg boundary off Mingus Clark (aka Jofra Clark) who bowled some heat. This was a most difficult catch – 96 for 4. Finchley then dominated the next phase of the game taking the score to 165 before Navin took his first wicket by clean bowling Shagan. George came on to bowl his off breaks and in his second over bowled the number 7. Whilst wickets were falling at one end mainly to Navin who bowled some beauties and took 4 for 55 (2 bowled; a diving catch from Linus at short cover; one nicked behind to Nathan), the tenacious Modi was still smashing runs at the other. Also, our extras count was increasing at an alarming rate – we managed to clock up 39 by the end of the game. When the 9th wicket fell in the 32nd over, the score was 186 chasing 231 – game over? Not quite - the number 11 could bat and he provided excellent support to Modi who continued to score swiftly. Finchley passed 200 in the 35th and knees started to tremble. With the light fading the score was rising as were fears that we might succeed in snatching defeat from the jaws of victory. Finchley started the 39th over needing just 8 to win - huge pressure on bowler Sanjay. Finchley complained that it was so dark that their batters couldn't see the ball and asked for Sanj to slow down. He shortened his run up and bowled a slower ball which Modi smashed back to him at head height. Miraculously in the light conditions, Sanj reacted swiftly and managed to get his hands up in time. The ball smashed into them and stuck – we had won! Smashing lad and a great catch to win an excellent match.
After tearing his quad and in a further demonstration of his commitment to our cause, Tair dived full length to avoid a run out. He managed to head butt the stumps and knock all 3 flat lacerating his nose in the process as this pic (not from Conrad) shows -