With all the celebrations and a hectic Juniors' Day on Sunday (see separate Article to follow), match Reports for the final League Saturday are late this week. Rather late in the day here they are –
First XI away to Harrow St.Mary
HSM 171 for 8 (50)
(LOD – 2 for 38; Luke 2 for 20)
North Midd 174 for 4
(Vanders 49*; Luke 43; Pars 45; Tommy 27*)
North Midd win by 6 wickets to take the Prem League title
A win away at Harrow St Marys would see us win the Premier League. When we arrived, Harrow St Mary's was an absolutely picture, beautiful setting, lush outfield and the wicket looked great. Captain Hughes, after 3 straight wins, inevitably lost the toss and the opposition elected to bat first. There were a few nerves in the camp at the prospect of having to chase against Harrow's quality attack and these weren't helped by a ball fiasco shortly after the toss. We were told first that the groundsmen had only one pink ball and could we supply another one that could be now or delivered for the second half. We said that would be fine only to be then told that actually the groundsmen didn't have any pink balls at all! Nursey made some calls and promptly had 2 new pink balls in an Uber from North Midd up to the gound, but remembered shortly after that he had a new pink ball stowed in his car. We eventually started the game 15 mins late.
Captain Hughes started proceedings with a slow wide. Well bowled. Things got better pretty quickly though as he had the opener trapped in front 3rd ball of the game with a full, swinging delivery. 1-1. Bamber and Hughes bowled tidily, beating the bat regularly but a couple of chances went begging as both numbers 2 and 3 had early reprieves. Their luck ran out though when the introduction of Liam O'Driscoll induced an edge that was neatly pouched by Pars at slip. Liam then got the big wicket of Ravi Patel as he mistimed a drive that flew to Tommy Nic at extra cover and Vanders chipped in, picking up the wicket of the opposition captain, again, neatly taken by Pars at slip. Captain Hughes then turned to spin and Tommy Nic was soon in his stride and soon into the wickets too, luring the number 6 down the track to be easily stumped by Hilly.
A 6th wicket partnership then began to develop, a couple of lusty blows from the number 7 and the number 3 still there accumulating runs in a slow but steady fashion. The run rate never really got above 3 an over though and we felt that the bees were in the jar. Luke was bowling beautifully and eventually got his reward when he had number 3, stumped for a very slow 70 odd. We then rattled through a couple more wickets to snuff out a late onslaught and were pretty happy with our work in restricting Harrow St Marys to 171-8 off 50 overs at the halfway mark. Luke was the pick of the bowlers with 2-20 off 9 overs.
After a shortened tea, due to the delay for ballgate, Cracknell and Hollman began what would be a crucial period against the oppositions' Middlesex guns Tom Barber and Ravi Patel. Barber bowled quick and soon had Crackers nicking behind from a fast ball that was angled across him. Evan then came and went nicking off at the other end against a turning ball that bounced a bit more than he expected. 9-2 and there were a few jitters in the camp. Pars, so often the man for a big game, looked assured from the start and he and Luke carefully rebuilt, watchful in defence and committed in attack. We got through the opening burst but the change bowlers bowled pretty tidily and didn't give us much. Luke started to cut loose against the 5th bowler with a 4 and then a 6 but tried to go again and was stumped for 43. 83-3 and we still need 89. That brought Vanders to the crease. An accomplished batsman in great form. He began with watchful defence and a few nerve-settling crisp drives that found fielders. Parslow (45) at the other end went through a sticky patch though, nearly holing out to mid-off before we was eventually bowled by the returning Ravi. 118-4. Cometh the hour, cometh Tommy Nicoll. We had one more blast from Barber to get through, 3 overs of not quite so fearsome pace which the 2 North Midd ex Colts handled without fuss. The pair traded straight bombs from the spinners and really began to open up, with beautifully controlled lofted drives as the target got within sight. Us nervous, pacing, boundary lappers were becoming less and less edgy during this partnership, whilst also seeing Ealing capitulate against Finchley. Ealing lost their last wicket and the game with about 15 runs required. That meant the League title was ours and watching the last 15 runs felt like a victory lap. The final winning moment came when Vanderspar whacked one over the top for four and raised his arms in celebration. An image that will live long in the memory. Vanders finshed 49 not out and Tommy 27, they put on 56 to take us home.
There was champagne all round, some bizarre flares courtesy of the travelling Lobster, a couple of yards of ale and a pineapple in the dressing room by way of celebration. A truly strange and fittingly North Midd ending.
What a win. What a season.
North Middlesex - Premier League Champions 2019.
Up the Midd!
2s vs Richmond home
North Midd 190 all out
(Matt Cracknell 48; Charlie Y-S 41)
Richmond 159 all out
(Hugh Teesdale 5 for 24)
North Midd win by 31 runs and finish 3rd in the top 2nd XI League
The final game of the year gave NMCC 2's a chance to decide the MCCL 2XI Div1 title, though it was not coming home (the trophy had to make way for the 1's prem silverware) we could still deny Richmond the title by beating them, which would give She Bu the glory. Still though, there were the regular last game of the year scenes; a surprise 12pm start, a drastically shortened warm up, and the three's jazz shirt brigade (the pitch next door looked like Kew gardens, but the flowers were moving).
Shirls, still captain in Braveheart Millsy's absence, informed the players who were present that we were to have the first batting effort of the day. Richmond, clearly aggravated after the 1hour drive to Park Road on the last day of the season, were pretty up for it and in fairness bowled well in lovely conditions up top. We were 30-3 after 10, three voguish individuals all back in the hutch: Nurse, Chambers, Howeld.
2008 U13 national champs Yorke-Starkey and MCrack came together and whipped out their hammers, spanners and hardhats to begin a rebuilding job. After a measured 10 overs CYS even got out the pneumatic drill and whacked a few boundaries to up the tempo. 105-3 off 25. Poised for a decent score, even when we lost Charlie for 41, out sweeping too much of the ground and not enough of the ball. Soon after Chad celebrated his last game on english soil (until 2023) by getting out in the most pommie way possible, plinking a 40 year old tubby off spinner bowling hand grenades to mid off for a total of 4. His transformation from a classy back foot aussie batter to a classically frustrated and grumpy pommie batter is well and truly complete. What a hero.
114-5 after 30, but Cracknell, who would never do such a thing as the hit the ball in the air, was as you'd expect- still there and still not dismissed. In fact, he is a man who has spent so much time at the crease this year that the Occupy Movement are believed to be interested in him for a consultancy role. Shirls joined him, adding 18 before becoming the off spinners' 3rd victim. With the help of Louis Hayward's 18 runs, and Extra's 35 runs, North Midd made our way to 190 until Cracknell fell in the 44th over, one short of his half century (brings his average down to a puny 61) and we were all out.
Richmond probably went into Lunch pretty confident, but all the mood would be vastly different an hour later as they had been reduced to 25-4 after 10 overs. They had started uneventfully, but when we were informed our 1's were 0-2, DJ Teesdale had, in venomous revenge, ripped through the top order; first caught well by Chambers, then an lbw, then a smart sandy at 2nd slip from CYS, who got in the wickets action himself with a lovely floater that hit the top of the bottom of off stump. All the while Legends Hollman and Parslow had been compiling some 1's runs, all was back in working order.
Some resistance came, annoyingly, from Richmond's corner. Sami Shori, fresh after captaining Richmond U19's to a Semi Final loss to North Midd U19's the previous Sunday, was keen to take some revenge of his own. Despite generally good lines from both Lulu and Nurse, who had taken over from CYS and Tees, Shori got the scoring rate going with some thick edges, and the occasional 50 meter bomb. He was running out of partners though, Lulu was utilising the good ball, good ball, half tracker, trick beautifully - she beguiled the remaining opener and number 7 with it, catches taken by Teesdale and Mayo.
Drinks were taken, and while everyone else was either having water or a light orange squash, Shori (on 70) must have been consuming a testosterone/ego cocktail, as with Richmond on 140-6, 50 to get in 20 overs and with 5 men out on the boundary, he decided to hit a well flighted delivery from Nurse straight at Teesdale at Long off. C'You. Here begun the collapse, 140-6 became 159 all out. Teesdale returning to take his 4th and Chambers picking up 2 at the death style wickets. Richmond 2's denied the title (though Shepherd's Bush duly beat Highgate anyway). North Midd 1's prem champs by 18 points. North Midd 2's coming a lazy third. What lovely scenes.
Furious celebrations followed into the early hours of the morning (Monday Morning for some of us cough cough BennyO cough cough). A few final mentions go to Chad Mayo for having a fantastic second name and being a fantastic bloke, what a pleasure it was. Shout out also to young guns Hayward and Francis who will no doubt be cleaning up the two's league in no time. And finally to Lulu Gole, for regularly cleaning up good batters in the two's league like she's been doing it for years, whilst being the first female cricketer to represent the Midd at such a high level. Play on all you players.
[b]3s vs Teddington home[/b]
[b]North Midd 239 all out (28.4 overs)[/b]
(Nick Friend 60; Tom Barrow 49)
[b]Teddington 99 all out (26.3 overs)[/b]
[b]North Midd win by 140 runs and finish 2nd in the top 3rd XI League[/b]
That it has taken two days to put pen to paper, perhaps, best highlights quite how extraordinary Saturday came to be. Quite simply, I've never seen anything like it. If there has been a funnier game of cricket, show it to me. If there has been a greater night at this – or any other amateur cricket club – take me there. Teddington at home. A day destined to do more for jazz than Louis Armstrong could undertake in a lifetime. A day that began with flowery shirts and the late arrival of an opposition. At 11.45am, there was no side to face – were they stuck in Leicester? Who knows? It is hard, of course, to tell.
Here are the Mighty Threes (with some additions) in relaxed mode -
Eventually, they arrived. All eleven of them. Christ on a unicycle, what an achievement. Congratulations to them on this. As we know, this is not always easy. With company from southwest London, Benny Owen – basically pedalo-era Flintoff at this point in his life – chose this as an opportune moment to brush his teeth. Because, why the hell not? Meanwhile, there was a cash flick to take place. And Holy Mother of Overton, what a time to be alive. A Cracknell victory at the toss. And thus, the Mighty Midd opted to embark on a spot of batsmanship. With the post-match plans far more important than anything that anyone might achieve on the field, it was a fairly straightforward decision to wield willow first, fully aware that we're pretty sh**e at it and it wouldn't take all that long.
Of course, what could scarcely have been anticipated was what followed; the first two overs took half an hour. I sh**e you not, young sirs. Four match-balls were required as Hargreaves and the Golders Green Greenidge set about depositing the ball into lands far, far away. A quite extraordinary opening. Genuinely, I have never seen anything quite like it. From the moment the first ball of the match hit third slip on the shin, this was going to be pretty nauseatingly glorious. Nurse, nurse, bring the Calpol. Owen hit one into Calthorpe and then one into Park Road and then one into the house of the man who doesn't like either cricket or cricket balls. Then he plinked one beautifully through the hole in the netting. Scenes. We. Love. To. See. Curiously, every time the ball disappeared, the opening bowler – doubling up as a captain of sorts – requested a new ball. That will be £80, your honour. Friend soon joined the act, pulling the fourth new ball into a nearby garden. Fear not, young comrades. For, one of the four new balls had been thrown back and a deeply pedantic umpire finally agreed to allow play to recommence. Soon, the Midd were 62-0 after four overs. THIS IS NOT A DRILL. It had been pretty bloody funny. If some of the hitting was fairly outrageous, then the three slips seemed mildly optimistic as the fifth new ball was taken fifteen minutes into proceedings. Owen soon fell, plinking a delivery that could well have been deposited into Gen Dan Fushia instead into the sweating palms of a child. He was soon joined back in the Starsky and Hutch by Downing who, after slapping a wide full-toss for six over extra-cover, found a way of being bounced out in third eleven cricket. Get that man a drink. This rather jazzy affair was being played out to the ideal mixture of beer jugs and the soothing tones of Joe McElderry. Friend, coaxed in by the X Factor winner, soon plinked to mid-on, departing for a fairly ridiculous 60, which included the largest homer since he finished penning the Iliad. In went Cracknell and, thus, out went Cracknell. Middle stump on the floor as if it had fainted at seeing the skipper so high up the order. Another run to add to his season's tally. Alas, the 2s weren't looking for ringers and, as a result, his season ended there. Stump on the floor. Bails en route to Jupiter. His departure meant that Langdale could have a go. Lol. Believing that one should, at all times, follow the leader, he was soon sitting back down with Cracknell. Like a lovely married couple, they were. No sooner were they separated by a need to bat, were they back on the bench, beer in hand, questioning all but themselves. Wider bats required. And a ball with a bell in it. Joseph James, meanwhile, kicked one onto his stumps without troubling the scorers or, indeed, anyone else. This flurry of wickets did, at least, mean that Doctor Legside Hoik could enter the game. Shortly afterwards, he twatted one at Shirly's car. Then, he whacked one towards Calthorpe. Were we in for some fireworks? No. No we weren't. Then, he hit the ball straight at the chap on the boundary. Ay caramba. While this went on, Barrow remained unbeaten at the other end, as is his wont. He does love a spot of red ink, does the great Australian. He does, however, like beer more. And after Alfie B was enticed onto the Bakerloo Line, joining a crowded carriage of middle-order Middies, Barrow chipped to mid-off on 49. Jug avoidance. Fine. Big fine. Not as big a fine as for whatever it was that Hulk Bogan wore to the crease. For a few minutes, Sir Terry Bogan and the Vicar of Dobley went about their work beautifully. Price missed balls at will, while Kenna, who has now not taken a wicket for a month, swung himself off his feet in search of car windows. None were forthcoming and Price soon waved his railcard at the bowler and accepted the final seat on the rail replacement bus service to Outville. Now, ladies and gentlemen. The Mighty Midd ended 240 all out in 26 overs. Flabbergasting. Absolute mentalism of the highest order. Not the foggiest idea what happened out there but, at one stage, WASP had the 3s looking at 1,200. 62 after four overs, 100 after seven, 150-4 after 16. Matron, I need a lie down.
Then came the final tea of the season. And Mother Teresa, what a treat. *SMOKED SALMON SANDWICHES KLAXON* Melt in the mouth deliciousness. Elsewhere, there was a chicken pasta thing. Dainty, refreshing, tasty goodness. Compliments to the chef. Ultimately, however, it was not enough for first place in this year's BundesTeaga. That, of course, is won by Eastcote, whose food continues to be bloody fantastic. Shout out to Highgate for their picnic of greasy little wonders. Hash browns should be compulsory everywhere. Of course, cap doffed to Osterley, whose chicken biryani was neither stuck in Leicester nor en route to Hornsey and, thus, was eaten. Super food. The less said the better of the overall hospitality experience at that particular beacon of sportsmanship.
Post-Salmon Rushdie, there were some runs to defend. As is the league's set of rules, Teddington would have 45 overs to chase these runs, despite the Midd opting for just 26.2. After eight overs, where the Midd had been 110-1, Teddington were 18-2. Big Alf Buxton had knocked over middle stump twice. Silly stump. However, this was all fairly immaterial. You see, sometimes the game doesn't truly matter. Sometimes, funny sh*t just happens. And sometimes, it is so brilliantly funny that if the world had ended there and then, there would have been a fair ol' bit of satisfaction at the way we were all set to go. Kenna attempted to bounce out the child – funny enough in itself at his height. Somehow, the ball looped off the top edge. It didn't so much fly as loopily drift towards Price at midwicket. Honestly, I'm not sure this was possible to drop. There are limbless crustaceans that would have backed themselves. But then, a great northern yelp: "I can't see it," screamed young dobbler Price. As is the natural reaction, he curled up into a ball and felt sorry for himself. The game was delayed for several moments to allow for the appropriate amount of laughter. A genuinely amazing moment – second only to Doctor Bird Poo being shat on by a perroquet. The message, thus, was clear: don't rely on the fielders. More wickets fell. Cracknell even took a slip catch. The apocalypse is near. Langdale had been long since removed from the premises. Doctor Burgle The Tail grabbed a couple more, including a chap who could clearly play, to be fair to him. At the other end, Price had decided to open his eyes. He could now see and was now bowling fairly pleasantly – so quick was he that Downing stood back to him. The final wickets fell. I can't remember how. Much of the day was a blur.
What followed was one of the great evenings. The 2s won. The 5s won. Nico Smith chose an inopportune week to smash 155*. Cracking stuff nonetheless. The 4s were beaten but are safe. And then, it was all about the 1s. An extraordinary feat by a fantastic group of North Midd cricketers. A squad of blokes who know what the club means to a lot of people. The worthiest champions imaginable, complete with six born and bred Middies in the eleven that won at Harrow St Mary's. The best evening, night and early morning I can partially remember. We are some club.
As a third team, this is a league we should win. I can't recall playing a side we should have lost to. If you're not going to win the thing, though, play the game the right way and have a laugh. We've done that brilliantly this season, as we did last year. It's been bloody good fun. Some of the funniest moments I can recall on a cricket field have come this year. Mates playing with mates is a pretty good formula. Curry soon, end-of-season dinner on October 25. Next year, we get our title back.
4s vs Southgate away
North Midd 218 for 9 (45 overs)
(Joe Bridgland 61; Magnus Pierre 44*)
Southgate 220 for 4 (41.3 overs)
(Nikhil Perrincherri 2-57)
Southgate win by 6 wickets. North Midd finish 7th in the second division of the Third XI League in which they were the only 4th XI.
One final week and one final trip away to Southgate to cap off the season. With 7th place, one notch higher than last year, and safety already secured the party atmosphere began at 11am in anticipation of what would be a big evening of celebration to follow.
One last coin toss to lose on the season and we were stuck in to bat. AT & Magnus were deemed to have the least offensive "jazzy" shirts and were sent out to umpire first whilst Alec was the first lucky one to be pulled out the hat had the honour of getting to open.
Here is the team in their conventional whites -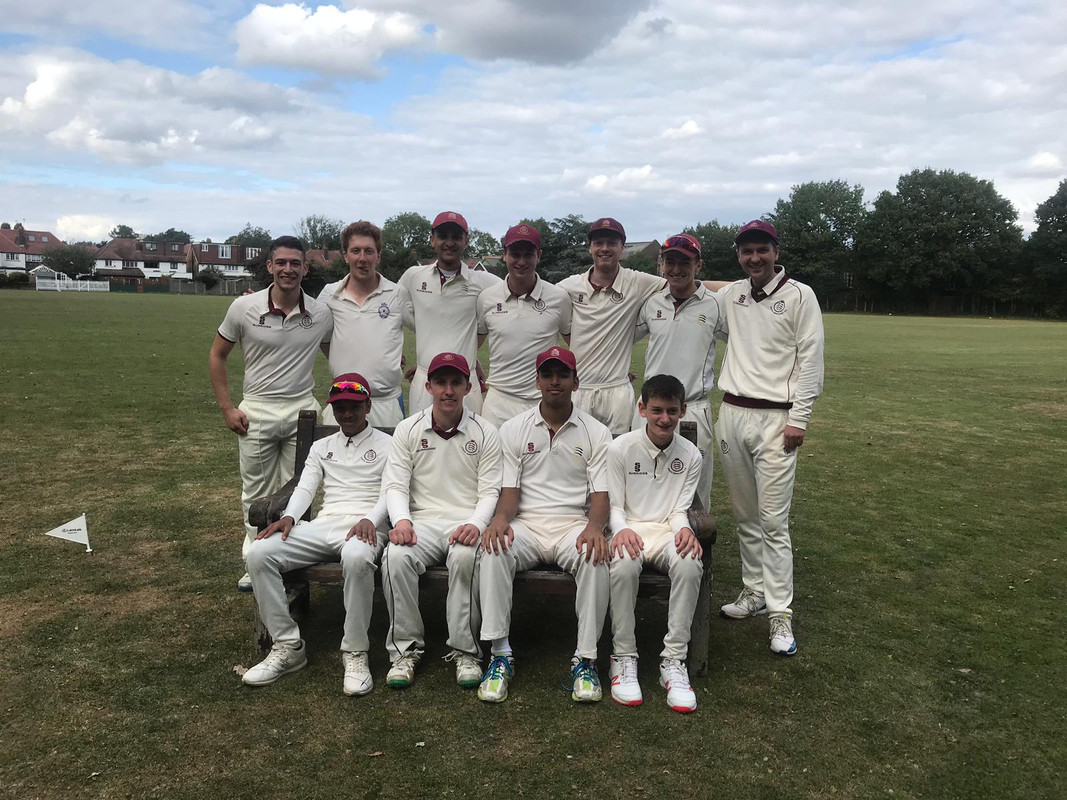 The skipper, having batted 11 all season, opted to give himself a late season promotion and opted to face the first nut of the game...and what a bit it was. A boomeranging inswinger cleaned out middle stump for a diamond duck, for which the opening bowler actually apologised. A proud owner of the duck shirt for the off season.
Second out the hat was Jonny (27) who along with Alec (16) put on 49 for the next wicket, kindly aided by some of the fielders diving out the way of catches hit straight at them. KP (16), Josh (6), Will (2) & Nikhil (1) came and went with a flurry of shots, including a few extravagant Steve smith leaves to leave us 103-7.
It was only during that this flurry of wickets point Magnus name was added to the lucky dip as he joined Joe B to start the late innings comeback. 61 more from Joe, his 3rd 50 in 3 games this season and 44 red from Magnus put on 74 for the 8th wicket, before AT(11*), demoted by the hat from 1 to 11 finished with a late innings to leave us 218-9. This looked a decent total (although not quite as daunting as the 446 on the pitch next door) we headed in for a delightful tea and £3 beers before readying ourselves for our last innings of the year.
Southgate got off to a blazing start and by the time Josh took the first wicket in the 8th over they were already 55-1. Nikhil was introduced to take the pace off the ball to produce the best spell of the day(12-1-57-2), he removed their skipper who had made a quick 63 from 30 balls and followed up by trapping their number 3 with a full bungee in front, he has clearly been watching the skipper bowl too much this year.
Will Frais came back into the attack and got a well deserved wicket for some disciplined bowling (8-2-37-1) before it was left to Alec to bowl his first over of his North Midd career with 3 runs left to defend. His second ball almost opened up his account, missing leg by millimetres before he was put to the boundary and Southgate took the points to keep them up with 4 overs to spare.
Overall another successful season for the 4s, comfortably staying up and defending our record as the best 4s in Middlesex and our safety with weeks to spare. Throughout the season we got contributions from every member of the team in key games and, with talented colts in Louis, Tom, Nikhil, Alfie, Nico & Will all making great contributions to the side and those above, the future of the club looks very bright for next season.
Up the Midd and already can't wait to be back to do it all over again next year!
5s v Alexandra Park 4s at Peter May
North Midd 312 for 5 (45 overs)
(Nico Smith 155*; Dykey 50*; R Nicoll 45)
AP 160 all out (36 overs)
(Charles Martland 3-25)
North Midd won by 178 runs and finish 4th in a League made up mainly of 3rd and 4th XIs.
A quite incredible knock from U14 Nico Smith. What a future this lad has bearing in mind he is supposed to be a bowler! Also, great to see Dykey hit his first 50 for the Club after so many years of batting at the end of the order.
Also a fitting end to the Season to see skipper Martland take wickets with a beguiling miscellany of deliveries. Charles deserves huge praise for running things again this year and putting out competitive teams week after week often against enormous odds. His contribution was recognised on Sunday when he was presented with a Jack Petchey Award. The citation for that says it all –
"Since he took on captaincy of the 5th XI in 2017 Charles has done a great job at promoting inclusivity within North Midd. Has done this by reaching out to parents of young players early in the Season to brief them of how mixed age cricket works and to encourage their junior players to participate. When selecting his teams he has ensured that younger players have opportunities to play and experience longer form cricket, often for the first time. On the pitch he has given tremendous encouragement to the younger players, given them chances to display and develop their skills and helped integration between them and the older players whilst always maintaining a competitive edge. Captaining the 5th XI is far from the most glamorous role at the Club – we are hugely fortunate that Charles has taken it on and made such an excellent job of doing it. "
Thanks Charles