North Midd 1s are now just 1 point behind leaders Ealing in the Premier League after outplaying current Champs Richmond at the Old Deer Park.
All pics in this piece are courtesy of our good friend Conrad Williams to whom we are very grateful.
North Midd 1st XI vs Richmond (Away)
North Midd 276-3 from 60 overs
Richmond 76 all out from 29.5 overs
North Midd won by 200 runs
There had been significant rain during the week, but the sun was out before the game and the pitch surface was firm and dry. Richmond won the toss and, suspecting demons that never materialised, invited North Middlesex to bat. Joe Cracknell (chasing a third successive ton) and Luke Hollman immediately ran excellently between the wickets, and this was just as well because the opening overs from Timmins and especially the 'evergreen' and highly experienced David Burton (who bowled 13 overs unchanged) were accurate and otherwise treated with respect. After 9 overs the score was just 21, but both batsmen began to find their fluency with attractive drives and powerful pulls, so that the 50 partnership came after 75 balls. This forced a bowling change and Abhisheck began a mammoth spell of 19 overs of miserly and varied off-spin either side of lunch (his first four overs were maidens). With his third ball, he surprised Cracknell with a sharply turning delivery which was heading for the stumps, and the latter was duly adjudged lbw (50-1, 30). The 'double sound' was audible on the boundary edge, and the striker made his disappointment abundantly clear both at the crease and in leaving the field at a snail's pace.
Evan Flowers looked particularly disciplined and determined, which was not surprising since he was making his 200th appearance for the Club (Bravo!: the Club has had few more dedicated servants on the playing side in its history, and he's such a very good bloke). It took him 25 balls to get off the mark, which was loudly cheered by the rest of the side from the balcony, and acknowledged as if a century had been scored. A boundary soon followed, and then came the inevitable lofted straight drive, which this time crashed into the sightscreen on the full: a fine riposte to my remarks of the last few weeks. Here is a pic of the great man in action v Richmond (albeit from 2018) -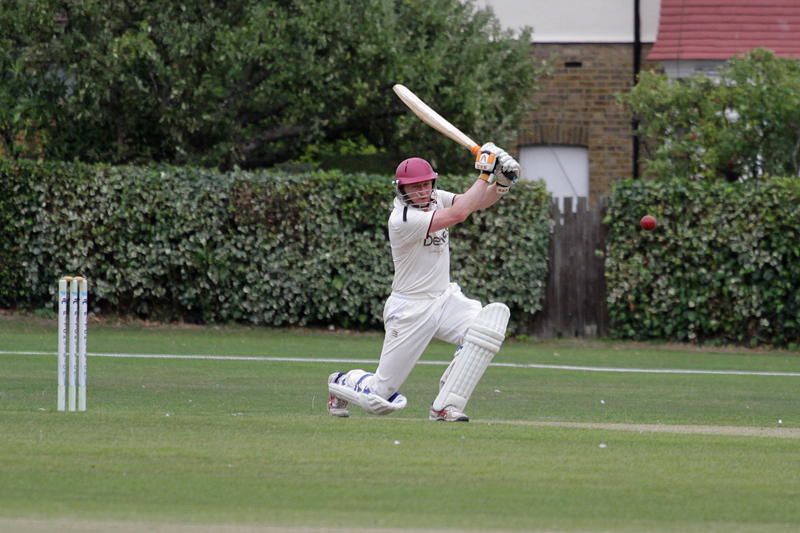 Hollman, meanwhile, was batting with a care and certainty that had recently been lacking, leaving the ball judiciously instead of chasing and playing and missing, but never missing a chance to score. He reached a careful, but never dull, 50 from 83 balls, and the pair reached lunch: 117-1 from 35 overs; against bowling that was often tight and never ragged, this was a very good base for an assault afterwards. Both players continued to run and bat with purpose after lunch and the pair had put on 93 from 177 balls when Flowers surprised everyone by slicing a cover drive to backward cover (143-2, 38).
James Parslow was immediately into his stride, sensing the need to accelerate, and playing some fine strokes, and the pair had added 79 at a run a ball when he was palpably stumped in the 55th over (222-3, 33). Hollman had meanwhile reached a very impressive hundred off 153 balls, and was beginning to play with real command, with a mixture of power and timing all-round the wicket: the reverse-sweep was played to particularly good effect, so that Abhischeck was finally put to the sword. Rob Fahrenheim (7 not out) made sure that Hollman faced the bowling so successfully that 5 overs later 54 runs had been added after a ferocious assault by the latter, who went from 100 to 150 in just 29 balls; he finished undefeated on 158 including 18 fours and 2 sixes. This had been a perfect storm, with the essential wickets in hand, and the 'Midd' finished on 276 for 3 declared after exactly 60 overs – a perfectly timed declaration which gave the home side a choice of attempting victory or gaining a maximum of 1 point.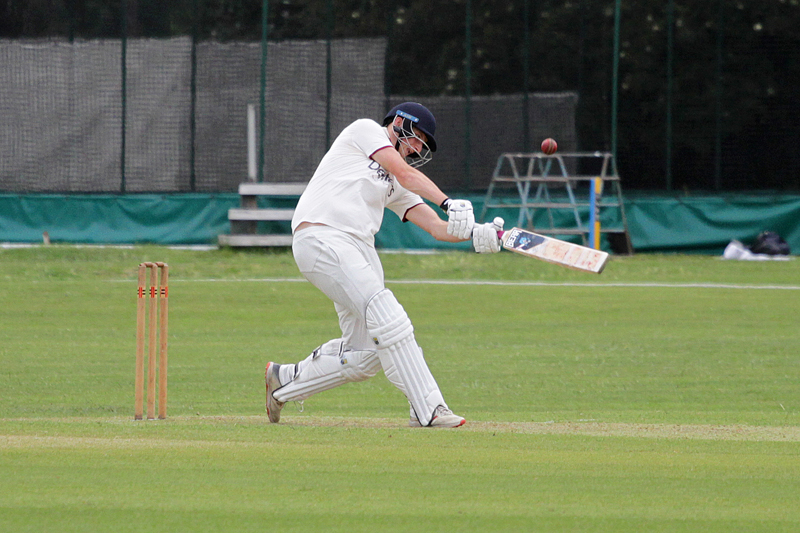 The welcome return of Ethan Bamber to the side was immediately effective when he had Phillips pinned in front third ball for a duck (4 (leg-byes)-1, 0), and he repeated the dose on Mansenath in his third over (10-2, 4). The cultured Abhisheck looked the part, but in his fifth over, Bamber bowled a beauty to have him well held at 3rd slip by Fahrenheim (18-3, 4) – a very important catch. Here is a pic of the Midd's slip cordon.
Joel Hughes joined the party three overs later to have Gibson caught behind by Cracknell (23-4, 2). Richmond went into tea in tatters soon after and the visitors were 'cock-a-hoop'. Suitably refreshed, both bowlers continued after tea, but it wasn't long before Bamber ended Ben Compton's resistance (Richmond's best batsman and currently playing for Kent 2nd XI) by having him caught behind (37-5, 11).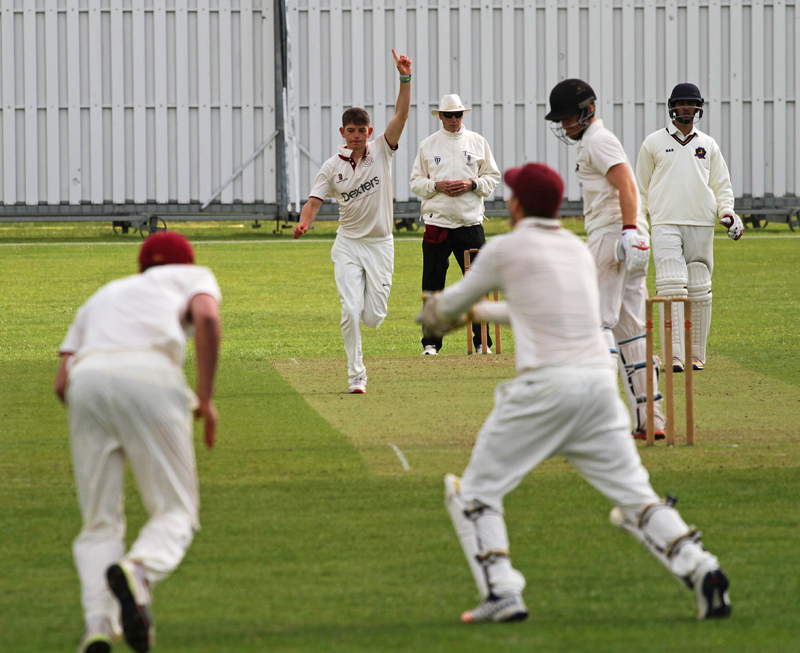 Skipper King joined Pankhania in a sensible partnership which saw off a remarkably accurate spell from Hughes (10-6-9-1) – yes 6 maidens! – before the tiring Bamber picked up a thoroughly deserved fifth wicket by castling King 'shouldering arms' (57-6, 8).
Meanwhile Hollman was searching for the appropriate length and pace for the pitch with his leg-spin, and in his third over, he ended Pankhania's resistance by bowling him with what looked like a googly (63-7, 17). In his fourth over he persuaded Burton to hole out to Max Harris at mid-on (67-8, 7), and in his fifth, induced Timmins to do likewise, this time to Tom Nicoll at cover (76 all out, 8). This saved the two fielders from 'TFC' games; a fate suffered by Connor Nurse and Ed Bird, for Richmond's Director of Cricket, the vastly experienced, talented and dangerous Adam London (sometime of Middlesex and a quite outstanding fielder in his youth) was unable to bat. He had not had the best of days: dropping both Flowers (on 25) and Hollman (on 62) at slip, and then attempting a well-hit catch at mid-on by diving high to his left like a beached whale and landing on his knee. An ambulance arrived: he took no further part in the game.
North Middlesex had therefore triumphed by the daunting margin of 200 runs. They had bowled and fielded outstandingly well, taking all of their opportunities, and all three bowlers used maintained consistent pressure. Hughes made sure that there were no easy runs at his end, so that Bamber could bowl unchanged in a fine long spell of fast bowling from such a youngster (15-2-40-5); he consistently pitched the ball up and regularly beat the bat. Hollman mopped up the tail efficiently (4.5-1-14-3), but it was his batting that we will all remember: showing experience way beyond his years, he had the patience to battle through the first part of the innings when the bowling was consistently challenging, and then completely dominated the attack in the latter stages, demonstrating power, variety of stroke and finesse. How lucky the Club is to have three such talented young cricketers performing so well at this level and beyond; I gather there are plenty more in the pipeline. This was a marvellous start to the 'timed' games, and if the 'Midd' can repeat the model of building a secure foundation, keeping wickets in hand for the first half of the innings, to enable acceleration later, then they have the bowling and fielding resources to achieve further success.
Mark Williams Glossary: 'TFC': 'thanks for coming'. Last week's PPPS Answers: Question of the week: How did (3-1, 0) become (5-2,2) two balls later if Steve Eskinasi was the second man out, but was the non-striker on 2 not out at the first wicket? 1.Wide from which a single was run (this is what happened), or 2.Run 3, one short, or 3.Batsmen go to wrong ends after the wicket and the umpires don't notice (it happens quite regularly, as scorers will tell you, especially after drinks or an interval).
North Midd 2nd XI vs Teddington (Home)
North Midd 67 all out off 24.2 overs
Teddington 69 for 2 off 13.2 overs
Teddington won by 8 wickets
No report supplied!
North Midd 3rd XI vs Eastcote (Home)
Eastcote 89-10 off 49 (yes, forty-nine) overs
North Midd 95-5 off 29.4 overs
North Midd won by 5 wickets
Though tempting the mid-week calls for cancellation were, North Midd 3's perservered through a tedious game that could potentially be held responsible for a significant increase in enquiry emails to Dignitas over the weekend. The biggest cheer of the day arguably came at 12 noon, when William the III (fittest fresher at Durham 2013) announced he had won the toss and we were to have a trundle. And it was under the meandering semantics of the word trundle that the middies operated for the majority of the day. For instance, Utsav arrived through the gate at the teas and refreshments end of the midd at 12:35 for the 12:30 start. And a number of the boys turned up less in whites and more in greens, unwashed from the previous week's visit to Ferme Park. These "whites" were noticeably less green than our playing surface, which rarely present obscure lyricist Nick Friend deemed "greener than Caroline Lucas in a super food smoothie". Despite this Eastcote got off to a fairly uneventful start, the odd play and miss, the odd forward defensive, the odd leave. Glassman Bridgeland was replaced after a heavy 4 over spell by Jack (the) Price (is right) who was most likely conceived on a seaming green top, a theory certainly evidenced by his first three overs going for 0 runs. It was Kenna though, who broke the 18 over partnership (for 23) with an uncontestable lbw shout. Pricey was the next to get in on the act, bowling their number three with a ball that Wes of the Love Island 2018 DBS society would certainly say "did a bit". Next fines' master Langdale made up for a lazy drop a few overs previous by holding onto a tough dolly at midwicket off Kenna's bowling again. From there on in wickets fell fairly regularly, Price picked up 3 more in his first 13 over spell (prolonged by his begging to stay on, Oliver Twist style). Utsav replaced him and immediately bowled a tactical drag down caught by Price himself, which was soon followed by a runout. Over the course of the next miserable hour Eastcote limped, hobbled and crawled to 89 all out (just the 50 overs required) Jack Price eventually taking his 5th, and Kenna returning to snag his 3rd.
Opening up for the middies were bag stealer Summerfield and goalkeeper Downing. This was in front of a crowd packed by both our 2's and their esteemed victorious opposition. Unfortunately Summerfield was the first to go, a player new to Park Road and clearly unaware of the proverb "don't go back on a North Midd track" , well you guessed it - he went back and was bowled by Middlesex vet Stanley. Utsav joined Downing at the crease, with his thigh pad strap hanging out his trousers like a tail. Unfortunately, Utsav would leave the playing field with this tail in between his legs as he popped one up to cover the next over. Utsav's entrance wasn't the worst of the day though, as Henners entered the arena at 0-2, with 2 left handed gloves but only one left hand. Together he and Downing provided some very unstable stability for a couple overs, the highlight being a Howeld bomb off Stanley just about into/very much over one of the Park Road residences conjoined to the playing field on the long side of the 30m boundary. Much to the suprise of absolutely no one, Henners was waved off the field next ball by Stanley having attempted to hit another 6. Cracknell and Downing provided some more shaky temporary stability for a few overs, but they would both depart to leave the middies 40-5, still needing 50. Enter Lake and Langdale, one batter not intimidated by the prospect of being dismissed by Stanley having been dismissed by him for at least 3 decades, one absolutely petrified of being the next victim. Neither would fall to Stan however , despite Lakey kicking one off middle which would prompt Stan to fall to his knees in agony and despair. From this moment forth a relative calmness emanated from the middle (of the edge) of the North Midd field. Lake swept beautifully, Langdale biffed handsomely, and quite quickly the score moved it's way up through the 60's 70's and 80's, until Langdale launched a straight bomb to seal us a 5 wicket win. Lake 25* Langdale 27* It was a jolly fines session this one, main perps Utsav and Howeld, but what a feeling to get back to winning ways. Next week Osterley near an airport somewhere, untill then...up the Midd.

North Midd 4th XI vs Hornsey (Away)
145/10
120/10
North Midd Win By 25
The 4s made the the short hop over to St Aloysuis school for a massive clash against 2nd bottom of the table Hornsey. The skipper once again showed his ability with the coin, losing yet another toss and again being inserted on a very soft wet deck. Alex Thomas picked up just where he left off last week, taking 20 balls to get off to the mark, plinking a soft single into the off side against a Hornsey opening bowler steaming in with the interesting wrong footed action. After looking relatively solid, Arj managed to pop one to point only to trudge off with the excuse "I can't see the ball out the house behind, I'm colour blind" not the ideal conditions to be playing the game. Similar to last week AT's scoring did pick up slightly, before similarly chipping one to point, a respectable 24 off 21 overs, including a homer for the second week in a row. A middle over collapse left us 97-9 with a nervous skipper yet to score a run all season striding to the crease. First runs came from on a misfield to get him underway. Nicely shepherded by Dhaval with a 30 red, we put on 48 for the last wicket to give Hornsey 145 to chase.
After coming out of bat Dhaval mentioned "Not feeling Great" and after a mid-innings puke he and Lulu opened up on a track that looked like it was improving as a batting surface, Dhaval got us the early breakthrough 1-1. Both bowled really tight lines, Lulu putting in a massive shift for us of (16–4-44-2). Fielding was body on the line all game and a massive reason for improvement, no one embodied this more than Joe James who wore one right in the crotch. After rolling around on the floor for a while he took a few overs off to give it a rub. We had them 53-3 at drinks on a pitch that had some serious variable bounce, still advantage Hornsey but we were looking strong. Much like us Hornsey proceeded to start a sluggish collapse falling from 66-3 to 87-7. The skipper keeping a tidy spell (15-2-39-4) and Josh Friend (6-1-11-2). We headed into the last over needing one more wicket to see off the game. The rain started coming down at this point and the ball was tossed to Dhaval. At this point we thought Hornsey were in blocking mode but a few rogue drives in the over suggested that may not be the end of the game. 2nd to last ball of the innings their number 10 took a wild swing at one and Tommy Francis snagged a beautiful grab at 2nd slip, raucous celebrations ensued. 12 massive points and on to Uxbridge next week.
North Midd 5th XI vs Winchmore Hill (Home)
Winchmore Hill 221 from 44 overs
North Midd 107 from 37 overs
Winchmore Hill won by 114 runs
The 5s suffered their first defeat of the season as we were comprehensively outplayed by Winchmore Hill. Winning our first toss all year proved of little help, as the Winch openers both played well to give them a solid start, not to mention 4 separate wide deliveries to commence the game, maximum villagery. Nirusha gave us a foothold and an Alex Croft wicket saw the game poised at 100/3. Unfortunately, they batted well and we bowled too many loose deliveries meaning we never kept the scoring rate below 5 an over on a two paced surface. Nirusha kept going, winning two lbw appeals and seeing a further two caught smartly by Nico, who was excellent in the field all day. Another clean bowled and the Midd's second favourite Sri Lankan (Atula is number 1 obviously) had the excellent figures of 7/76. The Winch posted 221. The target looked a tall order with a thin, availability plagued batting line-up. James Laddie was bowled looking to whip legside before Will got a good nut 2nd ball- a pleasure to get out to that sort of quality in Third Tier cricket. Alec Dawson (34) showed resistance in a careful knock, but once he fell, followed by Charles and Nirusha to balls which barely got an inch off the deck, it was a steady course to defeat. A formative experience for the youngsters and one to make them stronger. We can't win every week. Edwin bowled nicely on debut and Joe Bangerter looked like he'd never been away. A heavy defeat and hopefully a chance to draw a line under three extremely taxing weeks to skipper due to lack of numbers. Here's hoping availability improves as the summer progresses so we can have all sides pushing towards respective honours and targets.