Mixed fortunes again for the Midd on Saturday as the League Season reaches the halfway stage. 1s slip to second in the Prem - 3 points behind Ealing who we host next Saturday - what a game that promises to be!
In the T20 Finals on Sunday, our 1s knocked out Richmond in the Semi. Unfortunately shot selection let us down in the Final. We only managed to post 97 which Stanmore chased down with only a few balls to spare.
Here are the Reports from Saturday's League games
-
North Middlesex 1s vs. Harrow St Marys 1s (Home)
North Middlesex 282 for 3 Dec (58 overs)
Evan Flowers 101, Tom Nicoll 67*, Ravi Patel 2-110
Harrow St Marys 256 for 8 (62 overs)
Khawar Kazmi 66, Ravi Patel 75, Luke Hollman 5-86
Winning draw for the Midd
No match report supplied but here are the basics –
• HSM won the toss and elected to field.
• Middlesex County Championship quick Tom Barber opened up for HSM bowling C90 mph and generating considerable bounce.
• In form Joe Crackers hit on the finger by a rising ball from Barber – much blood and pain – Joe taken to the Whitt for xray etc. Fortunately, no break only significant flesh damage. Should be back in a couple of weeks.
• Enter Flowers who hits a quality 101 off 159. Good support from Luke (39), Pars (30), Tom Nicoll (67 not out off 48).
• Ex Middlesex Pro, Midd loanee and an all round good guy, Ravi Patel bowls unchanged throughout the Midd innings – 29 over spell! HSM only use 3 bowlers.
• Midd declare on 282 for 3 off 58.
• Teesdale Senior sub fields at the start of the HSM innings – his debut for the 1s methinks
• Luke takes 5 for 86 off; Tom 2 for 36 off 8; Joel 1 for 42 off 12.
• Sadly couldn't knock over the last 2.
Pic of a rather sweaty Ev heads this article.
Here are Tom and Beast coming off after the declaration -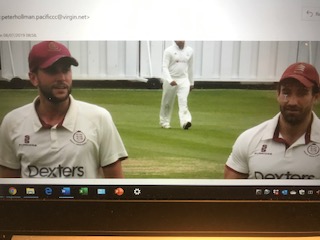 Here is Doug doing his stuff in the field -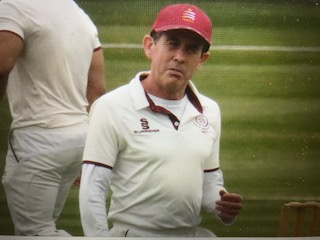 Thanks to Pete Hollman for the photos.
Richmond 2s vs. North Middlesex 2s at Old Deer Park, Richmond
North Middlesex 219 All Out (49 overs)
Matthew Cracknell 53, John Mills 60, Kshitij Desai 3-46, Steve Deakin 4-35
Richmond 222 for 2 (41.2 overs)
King 71, Zain Bhatkar 66*, Izhan Khan 2-48
Richmond won by 8 wickets
Majorca, Ibiza, Sardinia, Cluj, Copenhagen, Berlin, Stockholm, the other Oslo. These are all places we could've flown to in the time it took to get to Richmond yesterday. And oh what a better option they would've been... Upon eventually arriving at a resplendent Old Deer Park, Captain Cat proceeded to lose the flick of the coin to see us given first use of Richmond's asphalt strip. Shirls and Chambers got us off to a decent, if all to brief start. Having previously deposited the opening bowler into the trees at deep square leg, Chambers proceeded to snick off to a weak, wide waft. Hellmans came to the crease, only to suffer from the Camel-tators course: "Chad looks a million dollars out there". That he did, until he plinked one to second slip, failing to cash in on this most antipodean of decks. That brought Cracknell to the crease who looked class as he and Shirls saw off the paceman and continued ticking the score over nicely until drinks. That cursed liquid claimed Shirls in the following over, missing a straight dobbler. So Cat strode to the crease at the ground he wished he could call home. He and Cracknell put together a lovely partnership, hitting the gaps and upping the scoring rate with ease. Whispers of a big score begun, before Crackers feathered one behind. Out came Zulfi to play some lovely cover drives before chipping a sweep in to the hands of the only man on the leg side. And so began a pretty disastrous collapse, 6-20 against the most innocuous of bowling. Bowled out for 220 after 49 overs. Probably 80 runs short. Richmond's opener came out and attempted to smash the ball to all parts. Unfortunately for us, that worked rather well for him on this occasion. Aside from an edge that flew just out of reach of the leaping condiment at second slip, he didn't really give many chances and got their innings off to a flyer. Four dropped catches and a wicket off a no ball later and it had all turned in to a rather pedestrian run chase. Richmond eventually getting there in the 40th over. Special mention to Izzy who bowled beautifully and created pretty much all of our chances and Alex who bowled a tight opening spell. Don't think we ever really had enough runs on that road but we didn't do ourselves any favours in not making the most of our chances. Fairly disappointing day out but a strong opposition and a difficult ground to defend on. On to Ealing next week where we seek vengeance for the opening game.
North Midd 3rd XI vs Teddington (Away)
North Midd 279-5 dec 44 overs
Teddington 89 all out 25.4 overs
North Midd won by 190 runs
The Mighty Midd fielded the strongest side seen for some time. Tearaway firebrand Benny Owen was fully charged and ready for bumpers. Price, the Vicar of Dobley, could never have looked slower than this. Cracknell began the day by triumphing in the cash flick. Friend - he of the chanceless hundred against Barnes - would open with Downing. And what a start should ensue, with the Hampstead Garden Suburb Hayden going full Malachy Loye on the child opening bowler. A hundred-metre bomb over square leg. Available for tuition. The shot of many a day. Guilty, your honour. Alas, this was followed by a less successful sequel - the ball nestling tantalisingly in the clammy palms of another man with a beard. Caught at fine leg slog-sweeping the opening bowler in the third over - jazz levels: Louis Armstrong. Downing, unfussed by such carnage, continued swimmingly. He punched, caressed, stroked, brutalised his way to fifty, often placing the ball beneath the metal fence and into the construction site. Careless. Almost annoying. Quite funny though. Not - it must be said - as funny as the man at the other end. Stent tiptoed towards the worst half-century since records began. Sweating Glastonbury tears with every ill-judged slice over backward point, it was a knock of glorious shithousery - kudos for refusing to acknowledge the fifty. And, indeed, kudos for refusing to go any further. Knowing he had secured his maiden Midd milestone, he swung himself off his feet to lose his middle stump. Lovely scenes. While this was occurring, Capitan Cracknell - the bus driver - was helping himself to his highest score of the season (45). A jubbly array of crunching drives, all preceded by the bold claim that all that separated him from an international call-up was a quick single or two. The phone, I fear, will not ring. Once he had skied the captain with the nice hair to mid-on and Stent had decided that fifty would do him fine, youthful hero Hayward would complete the hat-trick for the Teddington skipper. Chapeau, monsieur. 168-2 to 168-5 in the space of three innocuous deliveries - did someone say collapse? Clean-up on aisle five. However, cometh the hour, cometh the Langdale-Howeld slogathon. Once finemaster Langdale had become bored of blocking the off-spinner for twenty minutes, he decided to plant him into next week. Howeld, too, embarked on a spot of thwackage. The scenes, they were wonderful. 110 runs in 14 overs, only punctuated by a trio of ruffians cycling across the outfield. They demanded in no uncertain terms that they should like to play. The ECB will be thrilled - the World Cup has inspired a generation. Once these streakers had removed themselves from the premises, play was allowed to continue amid the pleasant backdrop of horses and field moose. A declaration came at 279-5 after 44 overs. A tad harsh on Howeld (47*), for which - in hindsight - I apologise. Tea was blooming tasty. *Doffs cap to chef.* Chicken pizza was divine, tuna and sweetcorn sarnie a perennially underrated offering, little cheese puffs were labelled so non-pork-eaters were not confused by their startling similarity to the miniature sausage rolls. Not quite a chicken biryani, but fairly scrumptious nonetheless. Post-onion ring, there were so many runs to defend. There was also the thrilling prospect of Owen. Guru Nanak on a unicycle, what followed was fun. I've seen South Western trains less late than some of the attempts to fend off the flurry of bumpers coming the way of Teddington's third finest set of kids. First, Friend may have dropped a tough chance. Replays were inconclusive. Then, with Owen causing faecal matter to splatter out into the popping crease at one end, wickets fell at the other. Big Nick Lloyd-Williams - a Harry Gurney/Jonah Lomu hybrid - stormed in, swinging the leather this way and that. Two lovely shnick-offs quickly arrived. Another chap quickly decided that rather than risk his life against the wayward thunderbolts, he would instead kick away a middle-stump half-volley from the more pedestrian NLW. Owen did ultimately get his man, making use of the great three-card trick - beamer, bouncer, full half-volley squirted to mid-on. Good. Plans. Fun for all the family. That lad will have a cracking bruise this morning. Phil Vickery completed a first ever five-wicket haul; Michelle and the kids were visibly thrilled. Meanwhile, on the subject of pedestrian, on came Price to deliver some gentle wafters on his swansong appearance before a holiday in Barcelona. That, presumably, is what a week in Scarborough can do to you. He took three wickets, while Doctor Did Not Bat did not take any wickets. Young genius Hayward finished things off by removing someone's off-bail from whence it rested. 12 points dans le sac (in the bag). Must say, that was bloody good fun. At times, it was more lads holiday than league game in the field. The fly slip was a lovely touch, not only tactically, but also because we were never getting a catch there in a million years. The same can be said for the short leg. Glorious thinking. Equally glorious thought of Langdale taking a pull to the nipple. Some things in life are, indeed, priceless. Teddington, as always, were a really nice bunch and good lot to spend a day - and post-match beer with. Keep availability something close to what we had today and nobody in this division touches us. Jules Rimet is starting to gleam. It's coming home.
North Midd 4th XI vs Southgate (Home)
Southgate 193-7
North Midd 197-3
North Midd Win by 7 wickets
The 4s headed to Douglas Eyre for a massive relegation 20 pointer against Southgate this week. Praise to the north circular traffic as Tom lost another toss but with only 6 players at the ground for the start Southgate were forced to bat. For the 3rd week in a row the opening bowlers were excellent. Alfie Buxton in particular only conceding 5 runs from his first 6 over spell. Both Alf and dhaval got us early breakthroughs bowling very sharp to leave Southgate 11-2. From there they steadied, and 11-2 became 91-2 with what was admitted a lapse in fielding standards into drinks. Nikhil made the crucial breakthrough. Nick was fantastic all day and I had numerous compliments from the opposition talking about his skill and guile, he frankly deserved more than the 1 wicket he took. Alfie came back and as the pick of the bowlers took a fantastic 4-32 from 14 overs. If you needed a masterclass in how to play and miss just watch his spell. From the other end Dav was solid with another solid 2fer. 193 to chase.
Things started well if not the AT usual with 4-0 off the first 5 overs. Tom and AT batted sensibly and just when we said 25-0 off 10 was a good base AT chipped one to cover and we were one down. The superlatives I can use to describe the following partnership from Magnus and Tom Francis won't end. Both played with fantastic straight bats, punishing the bad balls and running well to wrk out every last run. A 150 partnership was exactly what the doctor ordered before Magnus fell to an incredible 94. At the other end Tom kept ticking along. 12 off 3 overs when dhaval came to join and after a short cameo and calamitous Run our (not his first of the season) it was left to Joe janes to clip one off his pads. 4* with a 400 strike rate and Tom Francis doing a stellar job of carrying his bat for 64*. 10 points and same again next week we hope!
Alexandra Park 4 vs. North Middlesex 5 Away
North Middlesex 5 295 for 5 Dec (46 overs)
Linus Wainewright 50, Richard Nicoll 100
Alexandra Park 4 197 for 8 (46 overs)
Mingus Clark 2-27
North Midd Winning Draw
First off a huge thank you to coaches Tair Hussain, Joe Kohler and Jon Francis for making themselves available at the last minute. Thanks also to Rachel (Linus' Mum) and Gerald (Mingus' Dad) for scoring throughout the match.
We won the toss and chose to bat on what looked like a decent deck and so it proved. Our innings was marked by productive partnerships – Will Frais (40) and Linus Wainewright put on 71 for the first wicket with Will showing his quality with some fine pulls and cuts. After Will was caught, Linus took the attack to the oppo hitting his first 50 in senior cricket and putting on 66 in his partnership with Richard. Jack Richards (26) replaced Linus and was soon in his stride. Jack was eventually out to bring Nirusha to the crease. He and Richard batted through to the end of the 46th over to enable us to declare on 295 for 5. Nirusha finished on 35 with Richard reaching his 100 in our last over with 2 sixes and 10 fours.
AP were never really in the chase. Much as we shuffled our pack of bowlers we struggled to take wickets regularly on an increasingly flat deck. On his debut for the 5s, Mingus Clark bowled a tight line and beat the bat regularly, particularly in his second spell. Jon Francis baffled the oppo with his variable pace and length. With Tair also bowling some gas with 10 overs to go we were in with a sniff of victory but the last two wickets eluded us. Bowling figures were – Mingus: 2/27; Joe Kohler: 1/33; Nirusha: 1/37; Daksh Jain: 0/31; Jon Francis: 2/27; Danny Francis: 0/9.
Daksh, Richard, Tair, Linus and Nirusha took stinging catches at key times. No catches were dropped and Will Frais did a sterling job behind the stumps.
Whilst 5 points was a disappointing return for our combined efforts there were several pluses and in particular the positive batting of our youngsters.