Oxford Cavaliers Rugby League Football Club was the first amateur rugby league club to be formed in Oxford in the summer era.
The club was the brainchild of Lionel Hurst, who chose the club's name and colours to honour the city's civil war heritage. The club crest is the red and blue royal standard that flew over Oxford when King Charles I held his court in Christchurch College in the City.
The club's very first fixture, on Sunday 14 July 1996, gave them their first taste of victory, over another new Rugby League side from Bath. Over the coming months the Oxford club would go on to become a founder member of the Rugby Football League's inaugural Summer Conference.

The newly formed Oxford Cavaliers take on the Coventry Bears at Marsden Ferry Road in 1996.

Following that first match, Oxford Chairman Lionel Hurst said, "It was great day for the Cavaliers and for Rugby League, a new team is born!", with club captain Simon "Oz" Hicks adding, "It makes me very proud to be part of Rugby League in Oxford".
In those often challenging early days, players and staff came from across the world of Rugby League and Union, with Andy Jenkins and Mark Shaw just two of those who had seen action for the very first Oxford League side, the Oxford Sharks, which folded in 1993. Joining them in the team to play that first ever game against Bath was a young man named Jamie Cope, who went on to play professionally for the Keighley Cougars. The team was taking shape.
After several years of building on and off the pitch, becoming one of the strongest sides in the Summer Conference, Cavaliers had further reason to celebrate when five of the club's players were selected for the first ever Rugby League Conference representative team ahead of games against the North East and against the Combined Services. A genuine sign of the club's playing strength in the late 90's. Included were former London Broncos Alliance players, Graham Crane and Cavaliers' skipper Simon Hill. They were joined in the 22-man squad by centre Paul Daly, and two big forwards, John Williams and Darrell Griffin. The latter going on to secure his place in Oxford Rugby League folklore, by becoming the first from the city to play Super League, and represent England on the biggest stage there is.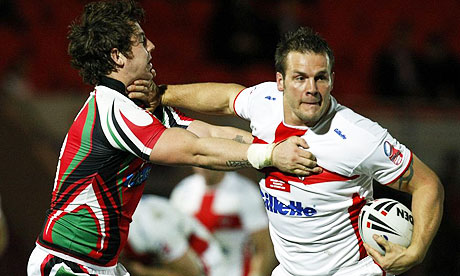 Photo © Keith Williams/Action Images
Former Oxford Cavalier Darrell Griffin representing England against Wales in October 2008.