Petersfield Rugby Club is proud to be working with Havant & East Hants Mind to spread the message that good mental health is possible for all.
Havant & East Hants Mind provide advice and support to empower those experiencing mental health problems and campaign to improve services, raise awareness and promote understanding.
Petersfield RFC has been associated with HEH Mind since its first Ambassador training session delivered at the Club as the programme began to accept applications and interviewing those wanting to volunteer and participate in the project.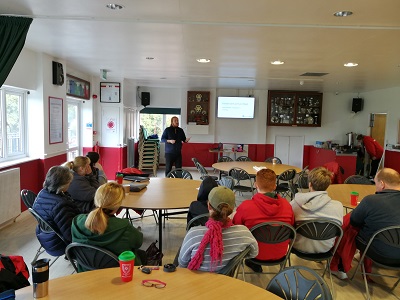 Wendy Wilson - PRFC Safeguarding Officer - was one of the first HEH Mind Ambassadors and is at the forefront of Field's ongoing support of the Charity; "We want to make it easier for people to talk about their wellbeing, to be more aware of the help available and the things they can do to promote better mental health in themselves.
That's what we've always done as a club around physical health. Mental health and wellbeing is just one part of that we've maybe neglected in the past."
The Club's trained volunteer mental health ambassadors are actively engaged in reaching out to the Club community with wellbeing stations for players, spectators and parents on match and training days along with wellbeing information boards in the Clubhouse.
During the2018/19 season, the Club helped HEH Mind film a video which featured prominent players and coaches discussing their own experience of mental health issues. The video highlighted the fact that anyone could fall prey to poor mental health at some time in their life - even those who otherwise appear fit and healthy.
You can see the video here.
The Club regularly holds events to help raise both awareness and funds for the charity and recently added the HEH logo to the 1st XV kit.
Havant and East Hants Mind Ambassadors program is available to any club and any sport in Hampshire. Please contact Havant and East Hants Mind for further information on Ambassadors@easthantsmind.org or by calling Mike Lock on 07741657105.